On May 20th, we had to rescue a little filly from the Salt River as her mother had died from birthing complications. Jade had very severe pneumonia, and could barely breath, but she is a fighter and with intensive care and antibiotics, we were able to save her life. But just now that she is doing much better, a horrible accident happened!
Pacman, her  Salt River cousin , made a sudden noise in his stall, which spooked Jade and made her run straight into her surrogate momma April, who was happily trotting around in the round pen with her. April tried to avoid her, but stepped very accidentally on her lower leg and foot. We witnessed the whole thing and it was horrifying as it was immediately clear that she broke it. Please understand this was by no means April's or Pacman's fault and no one could have prevented this unfortunate accident.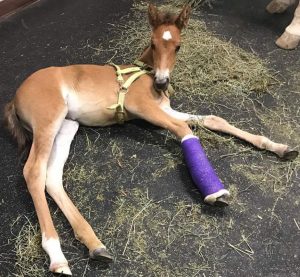 We are  horrified to have to bring you this news, but after diagnosis, the good news is that Jade can have a chance at a functional leg again, with plates and screws to stabilize the fracture; but it costs 10,000 Dollars!
We know that some would say that a wild horse is not worth it, but we will not give up on a Salt River wild horse lightly and we don't think that the public will either.
Jade loves life so she needs your help! Even while the amount seems insurmountable, if 1000 people give 10 dollars, her surgery and after care will be paid for!  The important part is not how much you give, but that you do.  because it is the accumulative power of the public that saves them.
UPDATE as of June 28th: Jade has had her surgery and is doing really well!  She has a plate on each side of her fetlock bone to make it grow back into place. She now has a very good chance to have a fully functional leg again and  run with her surrogate momma and her Salt River brothers. (at our facility in Prescott), all thanks to the public of Arizona (and some out of State too!).
The really amazing story is how this expensive surgery to get Jade back on her feet is being granted solely by the public within a day and a half of this alert! There are no grants of large sponsorships, it is the power of many citizens  giving what they can a little or a lot. We thank you from the bottom of our hearts for caring about Jade. This is how all things are possible for the Salt River wild horses!
It is the accumulative caring of the public that makes the humane management of the Salt River wild horses possible. Thank  YOU for cherishing the Salt River wild horses, they belong to all of the public and are cared for by all of the Public. Thank you for helping us prove that!