The Salt River Wild Horse Management Group (SRWHMG) is an Arizona-based nonprofit organization dedicated to monitor, study and protect the Salt River wild horses. We use all of our resources and connections to prevent harm from coming to the Salt River wild horses and ensure that they will be here for future generations to enjoy.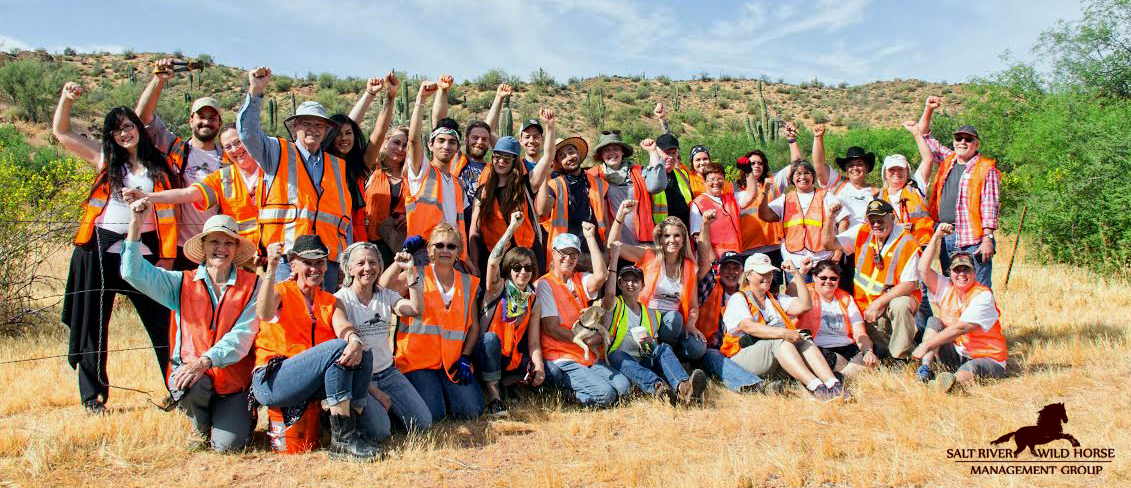 We are present in the Tonto National Forest daily to monitor, document and be available for any situation that involves a wild horse. We keep meticulous records of each horse, migrating patterns, birth and death rates, herd dynamics and environmental circumstances.
Our goal is the permanent protection and the humane management of the Salt River wild horses in the Tonto National Forest.  In 2015 we've had to use all of our resources, time and connections towards preventing the annihilation of this cherished herd.  After sending thousands of press releases the media responded and the public  outrage that followed was larger than the Forest Service or anyone could have ever expected.
The Salt River wild horses are still grazing the banks of the lower Salt River as they have for centuries, because the public gave them their voice.
We supported the passing of HB2340 which was signed by Governor Doug Ducey in 2016. It was passed with the intent to codify their management and facilitate MOU's between the Federal Government, the State Government and NGO (Non Governmental Organization) We keep in contact, write letters and have communications with all government authorities and politicians in order to facilitate and promote this process and accomplish their permanent protection. It is a slow moving process and the Salt River wild horses are not completely out of the woods yet.  Therefore we need YOUR continued support.
We care deeply about the wild horses, but also about the people who come to visit them, as well as the environment with all of the other abundant wildlife that makes its home on the lower Salt River. Our volunteers remove bags of garbage and buckets of nails as well as downed barbed wire every day. The old downed barbed wire is a result of a fence line on both sides of the river from 60 years ago that was never cleaned up.  It forms a terrible safety hazard for people, as well as wildlife. It has taken us many years and still some parts of the fence line are hidden under the sand.
The main reason the Forest Service cited for the removal of the horses was Safety hazard. Since that time we have received authorization to fix and improve the fence line along Bush Highway, which had not been maintained for decades. The openings for the horses on Bush Highway have been reduced to strictly the necessary horse crossings to get to their migrating routes. We have worked and are working with MCDOT and ADOT in regards to the fencing and towards more signage and flashing lights at horse crossings as well as helping horses stay off the roads when the fence line has been breached, broken or vandalized. We have also asked the Forest Service for permission to install more gates to replace the V's.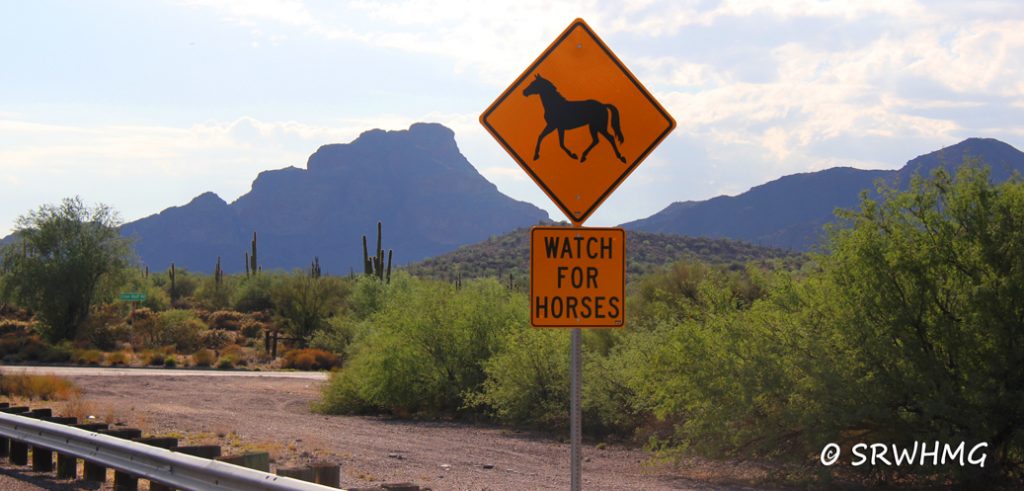 Goals of the SRWHMG
1. To protect the Salt River wild horses from harm.
2. To conduct scientific research by closely studying the wild horses as well as their natural habitat.
3. To identify problems, shortcomings and safety hazards of the area and work with state, federal and local agencies to find and implement cost effective solutions.
4. To educate people in order to advance both the safety of people and the safety of wild horses.
5. To work together with anyone who is interested in the same goals.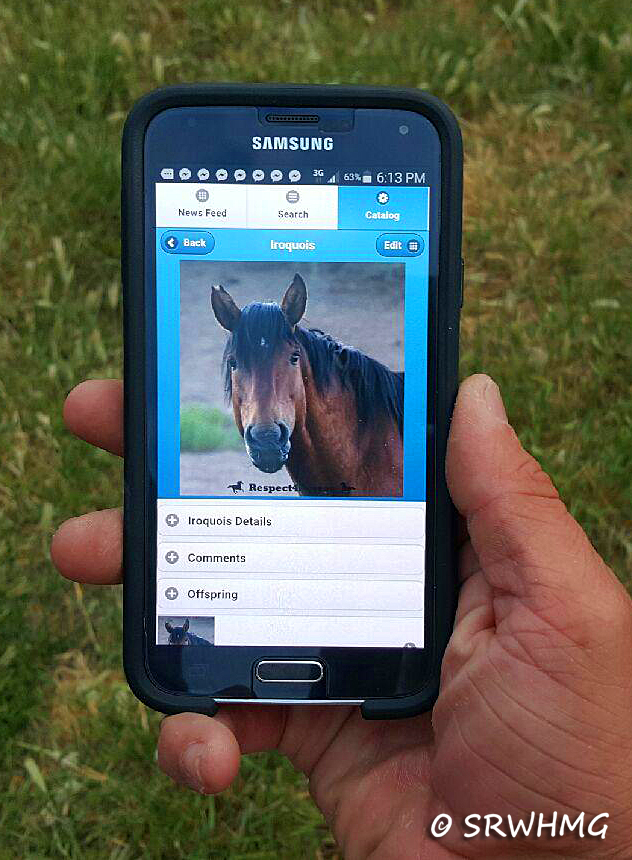 Not much empirical science is yet available or known about some of the intelligent behaviors and herd characteristics of wild horses. There is currently more research available on zebras in Africa than about wild horses in America. We are trying to change that.
A special software application designed just for our purposes is used daily to monitor the bands and update our records. The software is copyrighted and we are planning on making it available to other wild horse watch groups and advocates who are monitoring herds in other parts of the country, as well as some Bureau of Land Management (BLM) offices that have expressed interest in it to monitor wild horse herds more closely.
Our documentation shows far different data than many current estimates about wild horses. For example, our growth rates over the past five years lie between 10 and 14% and are far lower than the estimates of 20 to 25 percent growth rates asserted by the BLM, (which is the agency in charge of the majority of wild horse herds across the country).  We believe that the BLM,  is highly under- estimating the natural death rate of wild horses and encourage them to scientifically research this point as well as increase the use of  PZP humane birth control to replace the never ending roundups. We strive for not only humane management of the Salt River wild horses, but hope that it can be accomplished for all herds across the country.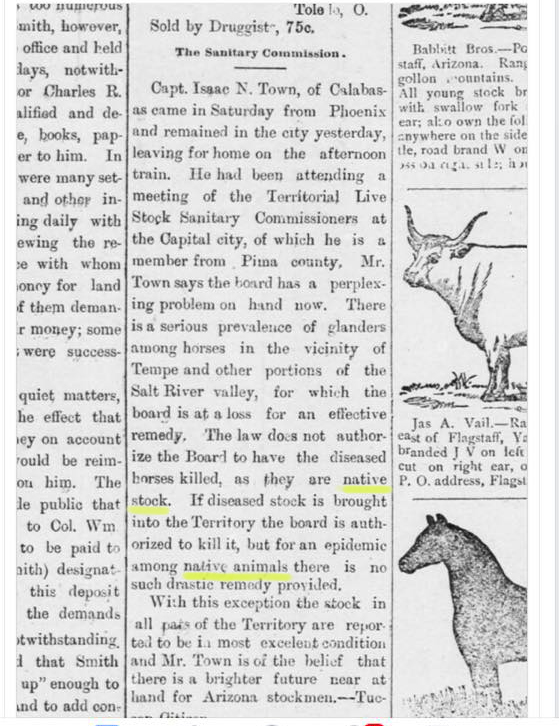 We also do periodical aerial surveys and range condition reports. We have much historic research, and DNA research on deceased wild horses. Our collection of historic articles shows the presence of the Salt River herd starting in 1890 (but likely much longer) , then consistently throughout the past century, through 1971 and into the current time. A Forest Service document from 1930 makes mention of the Salt River wild horses even while today on the FS website they still make the claim that the horses are stray livestock let out by ranchers.
The Salt River wild horses have value. They hold great scientific, historic, ecological, emotional and economic value. Fewer than 500 wild horses remain in the entire state of Arizona.  It is crucial that we make informed decisions based on science and based on what future generations of Americans would want in regards to these historic treasures. 

The  public and political outrage that occurred shows that public opinion is overwhelmingly for the protection and humane management of the herd. Arizonans consider these wild horses to be their rightful inheritance and a treasure to be preserved for future generations.
We are prepared to offer solutions for every situation involving wild horses at no cost to the government. This includes the assessment of injuries and rescue or humane euthanasia of wild horses who are fatally injured or needlessly suffering. It also includes a humane birth control protocol, at no cost to the government.
Legally, USFS has the discretion to protect these horses for future generations by managing them as part of its overall forest management plan. The USFS can also choose to protect the horses by designating a territory for them under the Wild Free-Roaming Horses and Burros Act or managing the horses under the Multiple Use Sustained Yield Act of 1960. However, under the current process, they will likely sign an MOU that will authorize the State Ag Department to deal with the wild horses, after which we will offer the State Ag Department the same solutions as we have offered for years to the Forest Service. Our proposal consists of the following components for which we are prepared to take on the full cost:
Key components of the plan include:
A humane fertility-control program to manage herd expansion. Immuno-contraception can be humanely darted by certified individuals without the need to capture animals.
Range management measures such as addition, repair  and/or removal of fencing or placement of gates.
Range stewardship through removal of old downed barbed wire and removal of pullution and cleaning manure from parkinglots.
Continued work with the Maricopa County Department of Transportation  and ADOT to improve traffic safety through horse crossing signs and other measures.
Public education and other measures to promote save viewing of wild horses.
Longterm range health studies to determine impacts of various uses, including but not limited to the horses.
By entering into a public-private partnership for the humane management of the Salt River wild horses, the USFS and State Ag Department can balance recreational, environmental and public-safety concerns, while delivering win-win solutions to the public who wants to see this iconic herd preserved for future generations to come.
We want you to know that YOUR voice makes a difference. We are not funded by anyone but you, the public. Your tax-deductible donation helps the Salt River wild horses directly, as no one in the Salt River Wild Horse Management Group gets paid; not even our president. With your support we can purchase fencing materials to keep horses off the roads, fund our education campaigns, help us fund humane management, and pay for the rescue of suffering wild horses when needed.
Please help save the horses by becoming their guardian. click here.
Please stay informed and receive our alerts click here.
Please connect with us through our and
We are truly grateful for the tremendous and overwhelmin

g public support and ask for your continued support until our Salt River wild horses are protected.
The SRWHMG welcomes any and all observations about the horses, their locations,  or injuries and deaths. You may text or call with any concerns to the Salt River wild horse hotline at 480-868 9301.