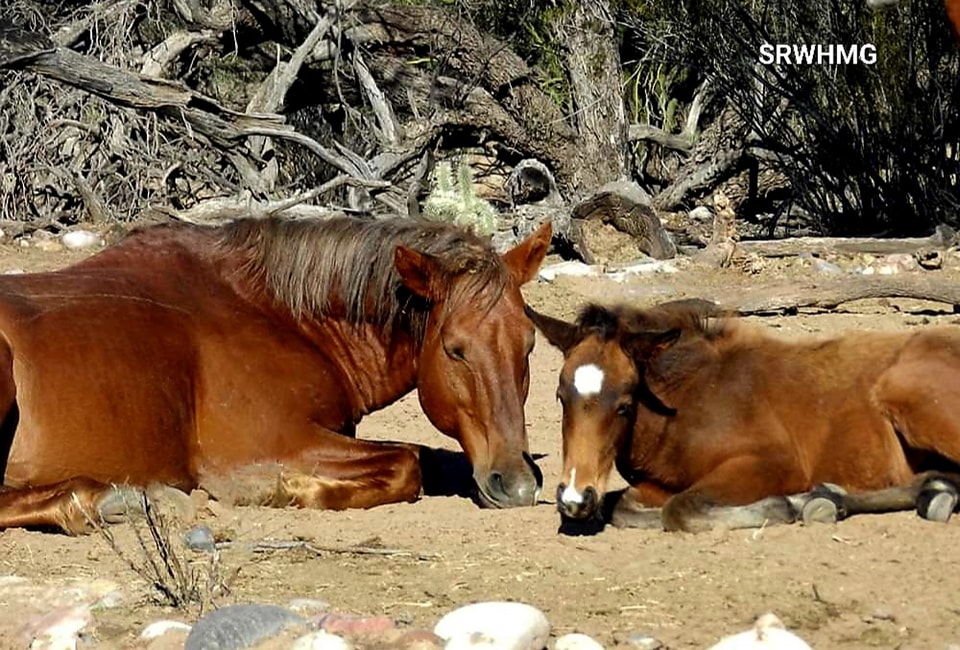 🎄️🙏📯A Christmas story about a Christmas miracle for wild horses.
December 21st
🎄️🙏📯A Christmas story about a Christmas miracle for wild horses.
This is Mirabelle with her Daddy, lead stallion Serta, taking a nap together. When you see the peace and deep love they have for each other, it seems that all is right with the world,..doesn't it?
But sadly there are some things very wrong with our government and the way they manage our public lands and our American wild horses. Certain regions are the worst; they just can't seem to get with the times.
It's almost 2023; by now there should be comprehensive humane wild horse management programs (like ours) applied to every wild horse herd in the country. Not just because it's the right thing to do, but because it's more fiscally responsible, more sustainable in the long run, and it's what the public wants and deserves.
Mirabelle here, plus the rest of the Salt River wild horses are now safe and valued as a recreational resource (because of our hard work). However, in the northeastern corner of Arizona, the Alpine wild horses are being cruelly removed from their home and split from their families this Christmas.
If lead stallion Serta were to be separated from Mirabelle, he would go nuts. He would do everything in his power to defend her, protect her and get back to her. He would challenge fences, he would challenge people and he might even kill himself bashing into fences, because there is nothing lead stallions won't do for their family, it's all they care about.
Lead stallion "Eagar" from the Alpine herd, was in last weekends online auction, by Rail Lazy H, the contractor for the Apache Sitgreaves Forest Service. And so were his mares and babies, they got no reprieve for Christmas. (The Apaxhe Sitgreaves Forest Service is the huge Grinch in this real life saga)
Stallions immediately get "sorted" when they arrive in the private holding facility, which means they get separated from their families and put in a pen with other stallions.
In "Eagar's description in the auction it states "he is very aggressive, he challenges fences and has no respect for people." Well we wonder why.
But of course no one wants a horse like that. No one has the time to turn him into a nice docile trail riding horse. No one wanted his family either; even the cutest of babies don't get any bids in these auctions, except from a buyer who will then take them to Mexico to make some money off them at the slaughterhouse. The ASNF is fully aware that this is happening. (May the shame and bad reputation be stamped on them forever, for that utter immorality. #shameonASNF)
These Alpine wild horses are our real life Arizona history. They are how we got here. They are beautiful iconic historic American wild horses, with no home and no family this Christmas.
We cannot stand it. So we have been asking you our supporters for help a lot lately and we are sorry about that, but with more funds, we can save more wild horses. You stepped up bigtime (thank you 240 donators) and this weekends fundraiser made an honest to goodness Christmas miracle possible.
It was a difficult feat, but all 30 Alpine wild horses in this auction were saved! Through many new startup sanctuaries opening their hearts and homes, and with your help, we were able to buy Eagar AND his family. The miracle is; they will be coming home TODAY, in time for Christmas!!
We hope that Eagar will get in the trailer safely and doesn't hurt himself before he can be reunited with his babies. Please wish him a safe ride and join us today to see "dangerous" lead stallion Eagar reunited with his family!
Please stay tuned closely to our page for this honest to goodness Christmas miracle. (Click on Salt River Wild Horse Management Group and tell Facebook you want to see more of our posts)
We work hard in the field to make freedom and unbridled happiness a reality, for lead stallion Serta and his daughter Mirabelle. We wish we had enough funds to do the same for and all wild horses everywhere just like them. We are just happy and thankful we were able to do it for Eagar and his family.
Wild horses are sentient kind animals capable of huge love. They mean the world to people like us and to people like you.
So today we want to wish so many blessings on every one of our staunch supporters, if you were able to donate a dollar or 1000 dollars or if you are able to donate some of your time and help us make this cause go viral.
Wild horses are a part of who we are as Americans. It would behoove our government to treat them that way. But since they don't, it is American citizens who are picking up the slack. We are so proud of the sanctuaries stepping up and the horse advocates calling around for more good homes for Alpine wild horses, its a huge army for the Alpines and its growing. Thank you #alpinewildhorsearmy
We will continue this fight for them through the new year and into the future and we hope you will be on this wild ride with us, no matter how hard it gets, until they are all safe.
The link to the Alpine wild horse fund will be in the comments. MERRY CHRISTMAS EVERYONE.
For the public and by the public, SRWHMG.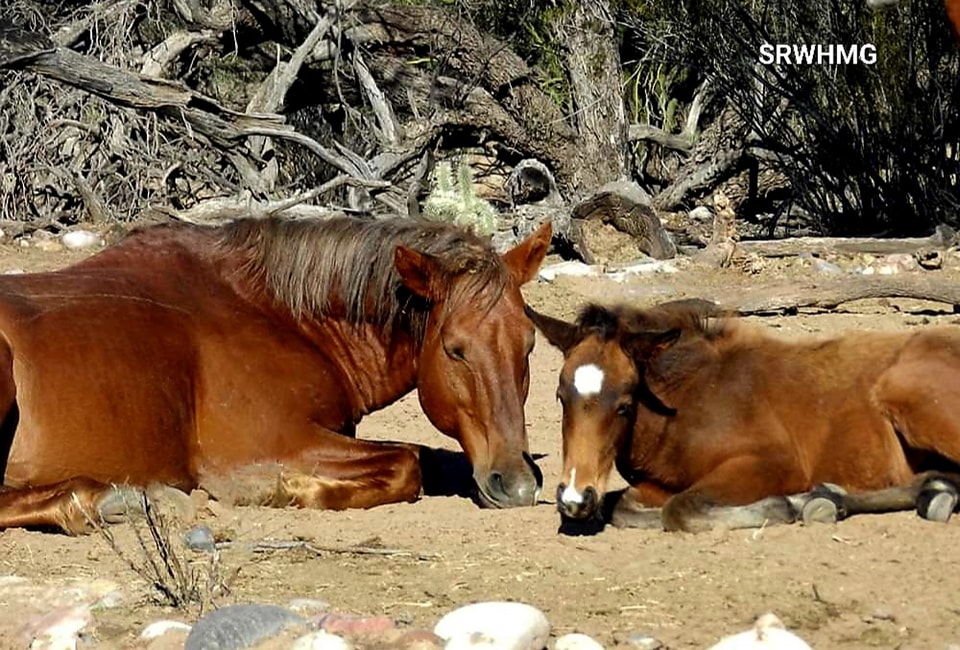 Photo by SRWHMG volunteer Christine Burkhart.