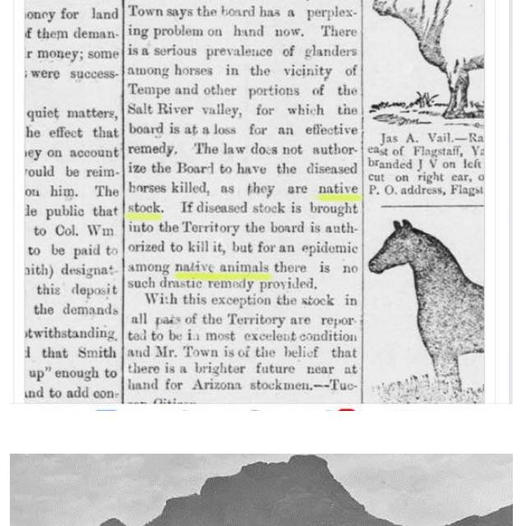 From our FAQ's: Are the Salt River horses wild and native horses, or stray livestock/feral horses?
July 25
The Salt River wild horses are a historically significant population of unbranded, unclaimed, wild and free-roaming horses, that were born in the wild and are now protected by State Law within the national forest.
Evidence indicates that wild horses have been living on the lower Salt River since well before the Tonto National Forest was created in 1902. It is believed that the herd is descended from the Spanish horses brought to Arizona by Spanish missionary Father Eusebio Kino in the 1600's. Recently DNA research of over 60 specimens found that Spanish bloodlines are predominant in the herd.
This is an Arizona Champion Newspaper article, dated January 25, 1890, which classifies horses in the Salt River Valley as "native stock." To be considered native stock at that time, there had to be at least 5 generations who knew about them, so this article effectively dates them back to 1790. It is only one of many historic newspaper articles that mention wild horses and it can be found in our own Arizona State Archives.
The Salt River Horse Act, was passed in 2016 and signed by Governor Doug Ducey in 2017; this bill establishes and further clarifies that the Salt River horses are indeed "not stray livestock".
In our research for the 2015 injunction against the roundup, more evidence, and many eyewitness accounts chronicle the presence of free roaming horses on the lower Salt River throughout the modern era, into the 1970s, (when the Wild Free Roaming Horses and Burros Act was passed), to the present day.
The decision to deny the Salt River horses protection under the 1971 wild free roaming horses and Burros Act ran counter to the longstanding FS policy to manage these horses prior to 1971. In fact, then FS Regional Rangeland Ecosystem Specialist Curtis M. Johnson stated that the horses "were not considered unauthorized … they were considered wild horses" and managed as such throughout the 1960s under the Multiple Use Sustained Yield Act of 1960.
In a May 17, 1979, Phoenix Gazette article, Perl Charles, a former Forest Service official and noted conservationist (for whom many hiking trails are named) confirmed that the horses were wild and had been present on the Salt River "for 35 years that he knows of, and maybe since the turn of the century." At the time, Mr. Charles was advocating for protection of the population of around 50 wild horses, stating, "It's a delightful thing to watch them running free."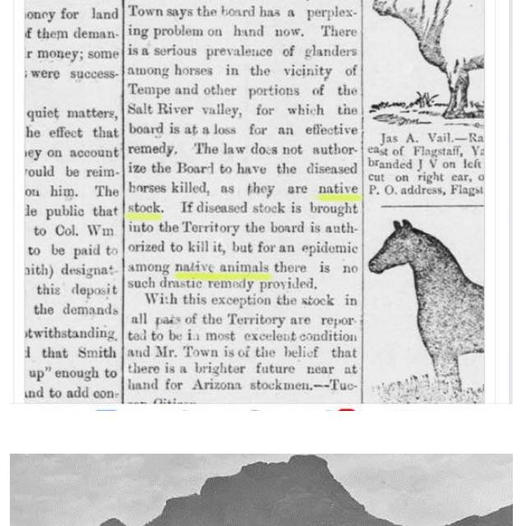 During his career with the Forest Service, Perl Charles estimates he rounded up and removed more than 3,500 head of wild horses within the national forests. Therefore, Perl Charles should be a credible authority on identifying wild horses, versus alleged "branded" Indian horses present at the time.
We do not however deny that the Salt River Pima Maricopa Indian Community also has wild horses on their land and it adjoins Forest Service land. In order to separate the two herds, fencing has since been placed at the boundary.
Simply put, the claim that these horses were stray livestock is simply not supported by historical evidence. When the "notice to impound" was published on July 31st 2015, no one – including neighboring tribes or the State of Arizona — claimed these horses. Therefore, it may be assumed that they are actually wild horses and not stray livestock.
The word "feral" is not a term that has any scientific meaning, it is simply used to try and demean the historic significance of wild horses, by making them sound like feral cats.
How fast can we actually "forget" our own Arizona history? Or are some simply trying to change history as a means to an end. The end of wild horses?
Not if we have anything to say about it!
Thank you for sharing this piece of history about the Salt River wild horses.
To learn more please visit SRWHMG.ORG