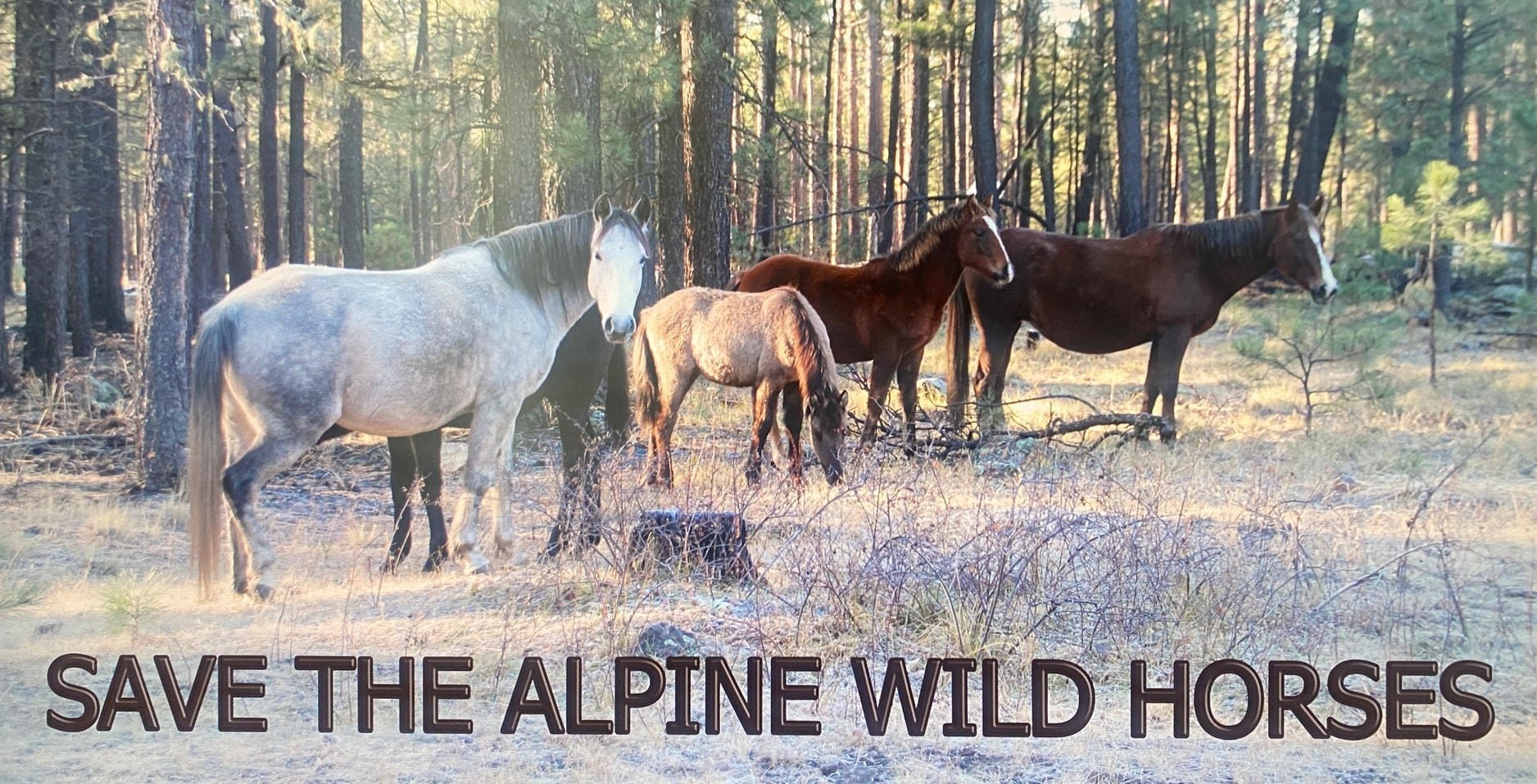 IMMEDIATE RELEASE: Arizona wild horses to be captured and sold at public auction
March 14th
For immediate release: Arizona wild horses to be captured and sold at public auction, SRWHMG to meet with Apache Sitgreaves Forest Service in attempt to keep Alpine wild horses off dinner plates abroad.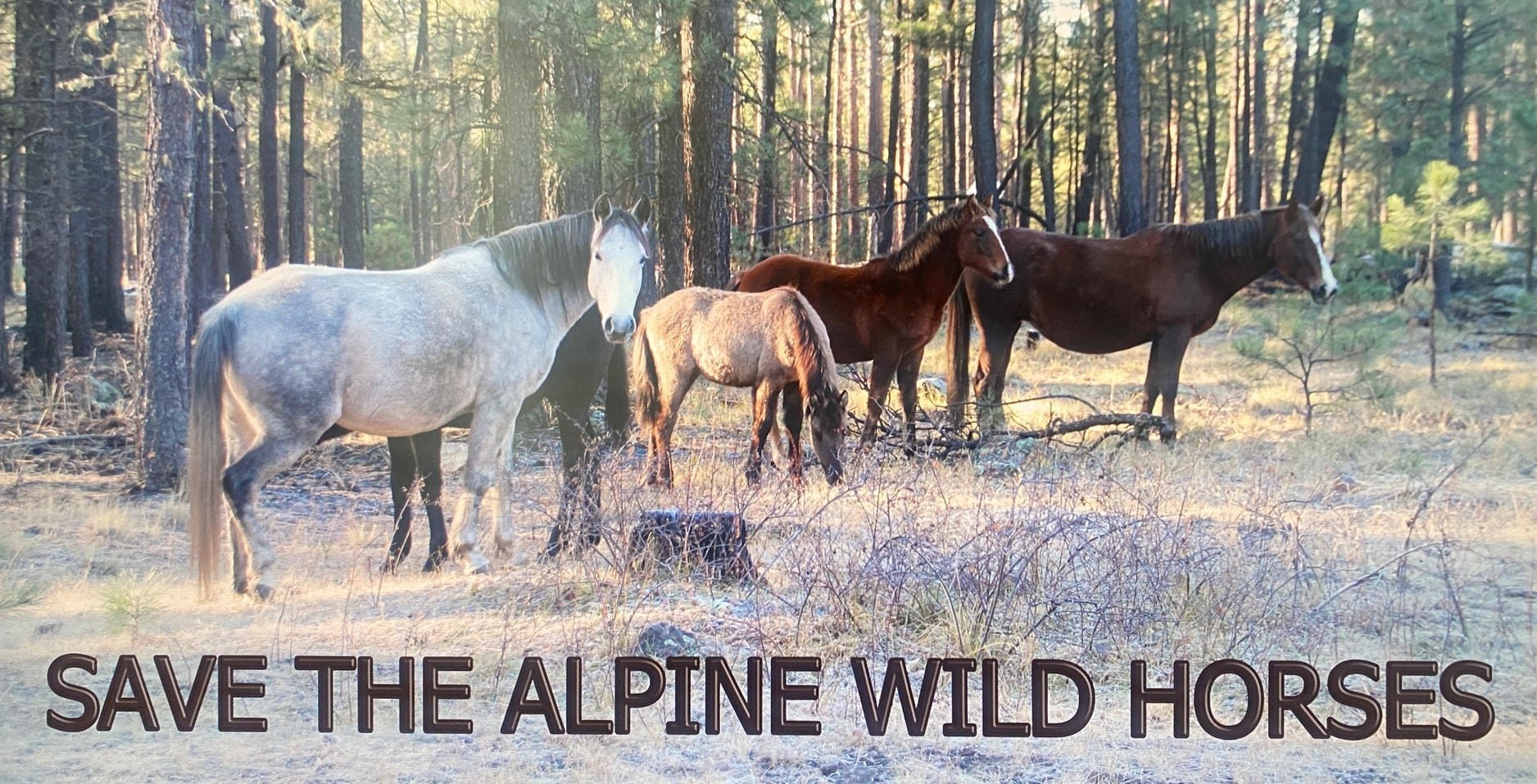 Picture is proprietary property of Alpine Wild Horse Advocates, by Shelley Thompson.
Apache Sitgreaves National Forest, Alpine, Arizona (March 16th, 2022)…The Salt River Wild Horse Management Group (SRWHMG) issued the following statements in response to the U.S. Forest Service's notification of "stray livestock" removal in Alpine. A contractor hired by the Forest Service will capture and remove at first 20 Alpine Arizona wild horses and take them to the Holbrook public auction, (a notorious slaughter auction) on March 30th after trapping them in a remote location in the Apache Sitgreaves National Forest on March 21st. The Forest Service is being compelled to round up a total of 400 wild horses from this remote area of the Forest, in response to a lawsuit filed by the Center for Biological Diversity of Tucson, which wrongly claimed that the horses were harming a small species known as the New Mexico meadow jumping mouse.
"The Salt River Wild Horse Management Group condemns the plan to capture historic Arizona wild horses from Alpine and sell them at the horrific Holbrook slaughter auction on March 30th."
Sadly, these horses have no current legal protections under the law, they are not considered part of the Heber herd, and we understand that the Forest Service has little to no options to keep some of the horses there. However we have to try, because the local community of Alpine loves them and it would not be fair to take this important recreational resource from them.
This short 7-day notice by the Apache-Sitgreaves National Forest does not give much time for solutions and it does not give the local community a chance or due process for input on this decision. The Salt River Wild Horse Management Group will stand by this small community and we will be calling for better and more humane solutions, such as fertility control, and we are willing to help.
We warn that if they are indeed brought to the Holbrook auction, these peaceful families of wild horses are almost certain to end up in slaughter plants in Mexico, as this auction is frequented by known kill buyers who do not like to be outbid. Kill buyers buy horses at these auctions and truck them to Mexico where the cruelty and slaughter of these innocent horses is unimaginable.
While these horses are being referred to as "stray livestock" the Alpine wild horses are possibly the most historic wild horses in Arizona, because they roam along and around the historic Coronado Trail. Fransisco Vazquez de Coronado was the earliest Spanish explorer who brought a huge expedition of 1200 men along with thousands of horses on this trail between 1540 and 1542, just 40 years after Columbus arrived, and 60 years before General Crook used the same trail.
SRWHMG is also concerned that no environmental analysis has been performed to establish the impacts of removing the wild horses, who have lived in the Forest potentially for centuries, on this wilderness area that is so vulnerable to wildfires. The fire abatement that wild horses provide should not be underestimated and removal of horse grazing from the Forest could leave the area at significantly more fire risk this coming fire season.
While the CBD press release celebrates a victory for the New Mexico Meadow jumping mouse, it fails to inform it's own supporters that their lawsuit against the Forest Service demands the removal and inhumane disposal of approximately 400 beloved wild horses.
We are shocked that the Center for Biological Diversity cares about mammals like wolves and bears, yet is forcing the slaughter of entire families of beautiful historic wild horses. Many CBD members are also members of our group, and we know for a fact that these members care about all sentient animals on our public lands.
Alpine is a beautiful, abundant natural area with a very small year round population where the residents almost entirely depend on tourism to this nature destination, including hunting, fishing, hiking etc. None of the residents we spoke to including hunters and birders and hikers, are supportive of removing all of these wild horses from their small community, because the horses add a valid tourism and economic boon, which cannot be said of the New Mexico meadow jumping mouse.
There are thousands of acres and plentiful water for wild horses and mice to live peacefully together especially considering that there is only one wild horse per approximate 5000 acres vs. thousands of elk and deer. In addition, wild horses have far fewer impacts on riparian areas where the mice live than do cattle, and the Forest Service has already removed the cattle from the area.
We propose that there needs to be a study of the recovery of the area, now that the cattle are gone, to actually determine if it was the horses that caused riparian damage. The wild horses simply appear to be the scapegoats once again. These cherished animals are often victims of bias by those who continue to wrongly view them as invasive or feral, despite scientific research that has firmly established the American wild horse as a native, reintroduced North American wildlife species.
Lastly we are concerned if there will be a public viewing area to safeguard the well being of the horses and if not, for live cameras to be installed that point to the bait trap operation for transparency to the public.
Much like Arizonans and Americans everywhere did not stand for the removal of the Salt River wild horses, we do not believe they will sit silently by, while these Alpine wild horses are captured and may end up on a dinner plate in a foreign country. Instead, we propose that these horses be managed humanely, and their population be reduced through the use of the humane fertility control vaccine, PZP, however legislation may be needed to accomplish this.
Our organization is meeting with the Apache Sitgreaves Forest Service this week and we need horse advocates to put in their two cents in very polite and respectfull ways, to keep lines of communication open. We firmly believe that there is a win-win situation to be found, but all parties and stakeholders need to be willing to come to the table, in order for our Arizona wild horses NOT to end up on a table.
There are many additional issues to be considered which we will bring up in our meeting and ofcourse we will speak to the benefits of a humane birth control program, which can be much more effective in lowering a population than attempted removals. Removals are scientifically known to cause compensatory reproduction in the population that is left. In addition horses will continue to come over from the adjoining reservation when there are no bands to protect the territories they have occupied, as fences are difficult to maintain.
We are saddened that the slaughter of our beautiful Arizona wild horses is on the table again and that we have so little time to try to prevent it.
So together we are calling on the Center for Biological Diversity (CBD) to be reasonable and help facilitate more humane solutions.
And we are calling for the humane treatment of this historic wild horse population by the Forest Service.
Again please stay polite and kind, we have always found that it takes positive people to make a positive difference.
A tally will be kept by the Forest Service of how many people call and write, which is an important tally that may be considered by legislators as well, so let's give the Alpine wild horses a strong voice. Jeffrey Todd who will be answering the phone lines will also call people back if you leave a message with your phone number.
For more information on the humane fertility control PZP please visit the Science and Conservation Center at www.sccpzp.org. Our PZP darting program has reduced the number of foals in the Salt River wild horse population in the Tonto National Forest, from more than 100 in 2019 to just 2 in 2021. It is our goal to humanely decrease the size of the population slowly over time, so that it can remain in balance with it's habitat, while at the same time keep these cherished animals healthy and protected, for future generations of Americans to enjoy.
For more information about the beautiful Alpine wild horses please join the facebook group Alpine Wild Horse Advocates where people are welcome to add their opinions and pictures of these beautiful horses.
If you care, please share, thank you!