🐴🐴🐴 Keeping an iconic treasure along the Salt River for everyone to enjoy is PRICELESS.
September 26th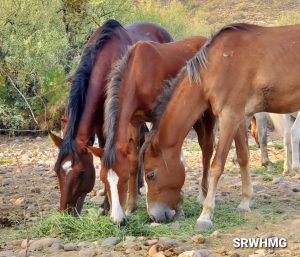 Keeping an iconic treasure along the Salt River for everyone to enjoy is PRICELESS. However what's priceless, does have a price tag, therefore, we need YOUR help.
Please click the donate button below
Without you the public, the Salt River wild horses would literally be…nowhere. But saving the Salt River wild horses isn't a one time thing, it is a continuing mission that we invite YOU to be a part of.
We are starting this urgent fundraiser, because we have already gone through THREE semi-loads of weed free alfalfa since the supplemental feed program started in July; at $275 per ton, it is $7000 per semi-load. With no rain in sight, we will need at least 3 more, to get them through this period of fire and drought.
Please click the Donate button below!
Lately with the Covid19 crisis affecting people, donations that we depend on, have taken a serious hit. Yet, we still need to pay the bills, so that the Salt River wild horses can continue to be managed for the public and by the public, like we have always promised.
Because our hard working volunteers provide the labor, 100% of your donation goes directly to the hay we need. If everyone who loves the horses, buys one bale for $15 per month, we will be able to get them through this challenging time!
Please click the donate button below
How does the Feed Program work? On a daily basis, we drop the certified hay strategically, divided over 4 feed stations in the forest. Our hardworking volunteers distribute the bales from the truck onto hand carts, and then walk it into the feed stations. (even in temperatures over 110 degrees. )
They then break up the bales, and put them into appropriate amount of flakes for each band, and each band has it's own feed spot with some space in between. We make sure that there is enough even for the lower hierarchy bands, who get to feed last. In this manner we have distributed an average of 190 bales per week. Each feed station provides for up to 80 to 90 Salt River horses, and the horses themselves decide which feed station they visit. We also pay special attention to bands with skinny horses in it, and we try to drop feed them extra.
Why is it needed? We started this program in the beginning of July when all of the forage had disappeared in the smaller area the horses now live in. All of the Salt River horses would be in bad shape by now, had we not started early on. This summer has been brutal with record temperatures and record drought.
Comparison pictures: We have a few indicator horses (they are the hard keepers who are older or have medical issues) who have made amazing weight gains. You can see their improvement pictures below, so that you can see what your help really does.
So while you will find few skinny Salt River wild horses right now, it is because of the feed program success and we really need your help to keep it up.
With over 80,000 followers, we are praying that you will help us share this and contribute if you can. If everyone really did just a little, but really did it, it would make a real difference for the Salt River wild horses.
Did you know that the more it gets shared and commented, the more people Facebook will show it to!?
So please buy a bale by clicking below, make it monthly if you can, and then please share it to everyone, and on every page who loves horses!
The horses are counting on us and we are counting on you!
Gratefully,SRWHMG.