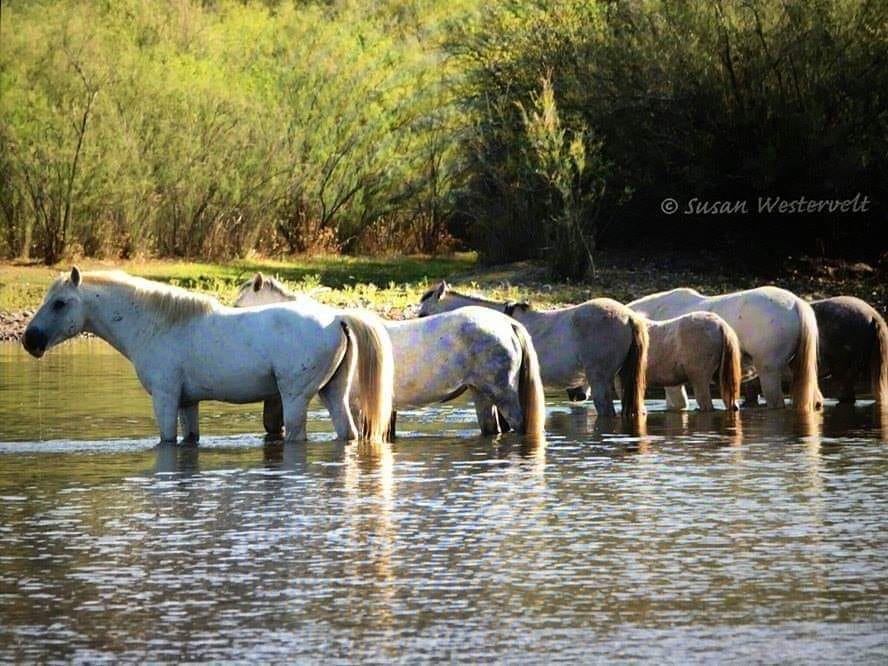 Project Bring Them Home
This is a 2013 picture of the Butcher Jones horses at the river by SRWHMG photographer Susie Westerfelt.
The Butcher Jones horses were driven across Bush hwy sometime in 2014 by some unauthorized cowboys and they became stuck on the Butcher Jones side without access to the River. They survived there because of the watertanks in the rolls behind Butcher Jones, but when those dried up, they ended up at Butcher Jones beach which is the busiest recreation area in the Tonto National Forest.
It was not a good situation for the horses nor for the public. We had a terrible time last summer just trying to prevent accidents.
So we are currently relocating the Butcher Jones horses back to the river where they belong and where they will be happy.
For those of you who are sad about that, we will let you know exactly where you will be able to see them on the river, once they get there.
This is a large project authorized by the AZDA and FS and we sincerely need your support and help.
It is not an easy feat to get 40 horses moved safely. We are not the BLM and we use only the gentlest most patient methods to get them there. We use our large manpower to move them.
What we need from you is positive thought and prayers and we need you to envision the Butcher Jones horses happily arriving at the River.
We also need a lot of financial support at this time to get our well and our electricity going at our SRWHMG property as currently we are driving back and forth wasting too much money to fill up our watertruck to water the horses along the way. (plus our rescues!)
For those of you who think the horses will make it there on their own, they will not. Bush Hwy is the first hurdle and another 3 mile fence with only a small opening is the second hurdle. After those challenges are crossed we can give them a push to the river and they will get there.
We need the opportunity to do this job without public and spectators, because the mission will fail if spectators send them the wrong way by accident.
Therefore we ask right now, that if you see anything going on with wild horses, or if you see them alongside the road, that you keep moving along and don't stop. Please do not be alarmed, no one is rounding up Salt River wild horses.
We are steadfast in our mission to always do right by them and we will not falter.
If you believe in our mission, please help us fundraise and spread this message.
Thank you for your support.
Truly yours,
SRWHMG