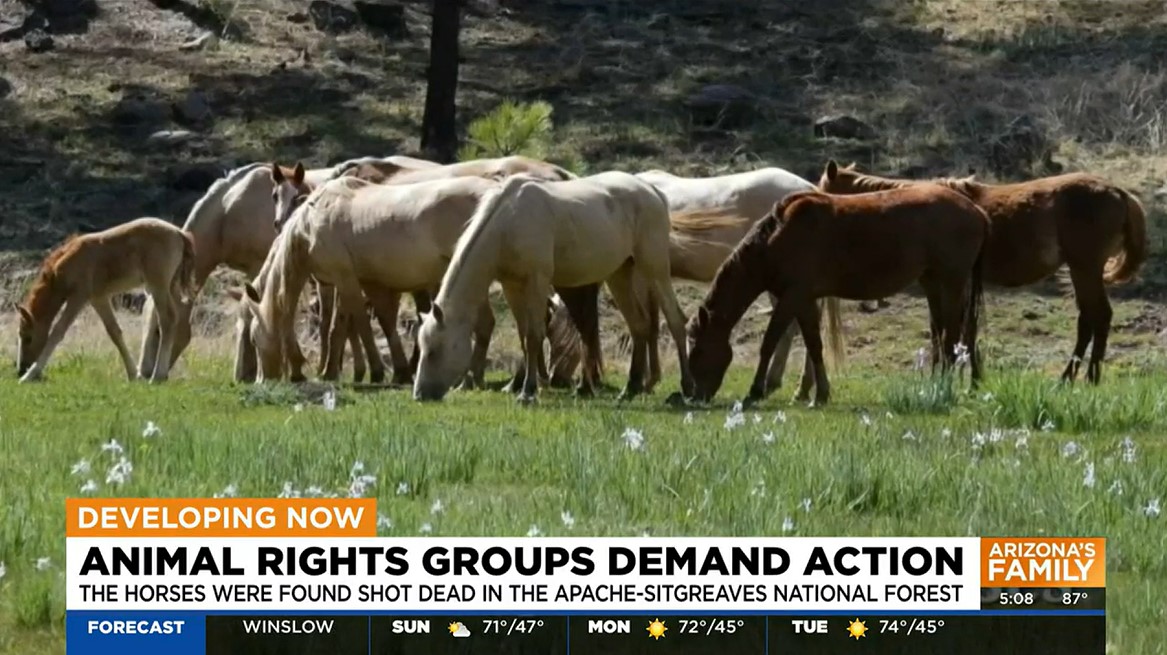 Reward offered for the arrest and conviction of the perpetrators of the brutal horse killing in the Apache National Forest
October 10th
Alpine, Az. The Salt River Wild Horse Management Group (SRWHMG) and the American Wild Horse Campaign (AWHC) joined forces to offer a $20,000 reward for the arrest and conviction of the perpetrators of the brutal horse killing in the Apache National Forest near Alpine, Arizona.
Another advocacy organization, Animal Wellness Action, has also pledged $5,000 towards the reward fund, bringing the total reward to $25,000. At the same time, the groups announced that the death toll of the massacre has risen to 15 horses fatally shot with 20 still missing and presumed dead.
Last week, the organizations expressed outrage and horror at the brutal slaying of the Alpine horses and demanded a comprehensive and transparent investigation into the heinous crime, and called on Arizona legislators to legally protect this historic herd much like the Salt River Wild Horses.
"The gunmen who are targeting these horses have inflicted enormous suffering on these innocent animals and caused immense trauma to the people who love them," said Simone Netherlands, President of the SRWHMG, "We are offering this reward on behalf of horse lovers from around the world who are demanding the capture, arrest, and prosecution of the cold-blooded killers who are responsible for this crime."
Netherlands' group is also calling for state or federal legislation to protect the Alpine wild horse herd, citing the Arizona state historian Marshall Trimble who has stated "There is sufficient historic evidence to confidently state these Alpine wild horses have been in the Apache Forest since the time of the first explorers. The Forest Service must be stopped from removing this historic herd."
"The perpetrators of this heinous crime must be brought to justice swiftly and the historic Alpine wild horses must be granted protection, not only from killing and abuse but also from the Forest Service and its plan to eradicate them from the Apache National Forest." Said Suzanne Roy, Executive Director of the AWHC.
The Forest Service is currently in the highly controversial process of capturing and removing the Alpine wild horses from the Apache Forest and selling them at auction without limitation on slaughter. The AWHC and SRWHMG urge the Forest to reevaluate its plan in light of this recent tragedy and work towards collaborative solutions to protect and preserve this historic herd living along the Coronado Trail.
This is a developing story and AWHC and the Salt River Wild Horse Management Group with the Alpine Wild Horse Advocates will continue to give updates. Please stay tuned. Thank you for sharing.