Sponsor Nakota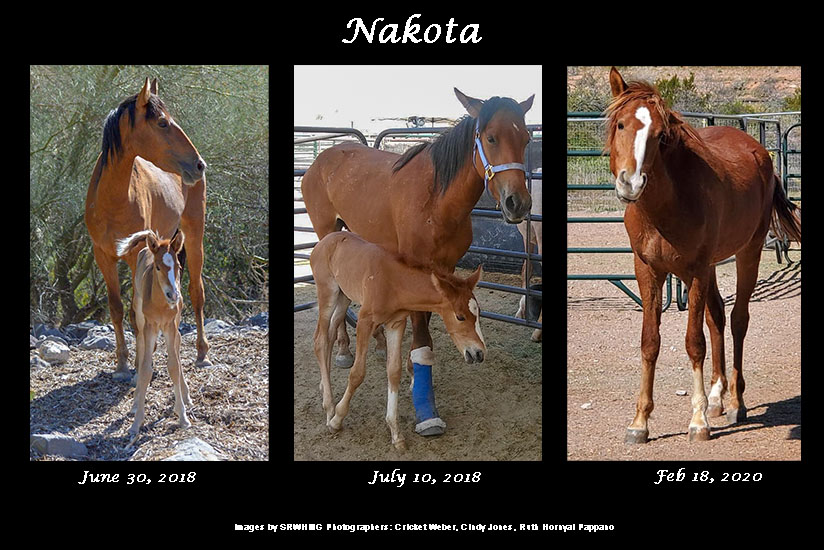 Nakota is Cheyenne's filly. They were rescued from the Tonto National Forest, together, when Cheyenne severed her front tendon and was no longer mobile. She was suffering badly with some of the bachelors fighting over her and trying to push her around. Nakota at that time was in life danger as Cheyenne could no longer protect her. Nakota was only a few weeks old at the time. We were able to save both of them by coraling them carefully and transporting them to our facility.
We knew that Cheyenne's chances were not great, but we tried very hard with expert veterinary care and antibiotics plus around the clock care for her recovery. We were able to keep her alive and out of pain for three months. These were very important months for Nakota. At a certain point it was not humane for Cheyenne anymore to keep trying, and she was euthanized humanely. This was heart breaking for all of us but especially for Nakota.
We paired her up with Old Lady, a very good auntie and with Agave, another rescued orphan. Agave and Nakota are now best friends and both are doing amazing at our facility. It is our goal to give these wild horses the best life we possibly can. They will live in a family situation on our 4 acres,  very close to what they would have had in the wild. We need your help and sponsorship for Nakota so that she can live happily ever. Thank you so much.