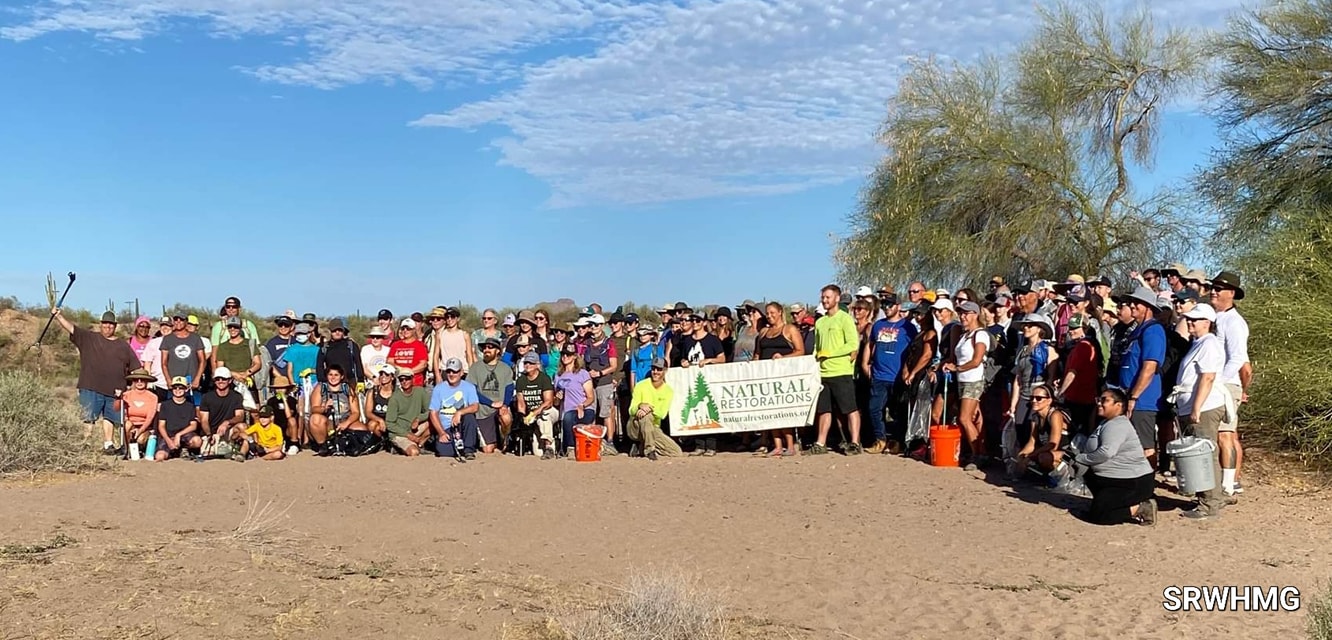 This morning's big cleanup was a great success!
July 9th
This morning's big cleanup in memory of Tangua, with Natural Restorations was a great success, and we couldn't be more proud or grateful to everyone who got up early on their Saturday, and rolled up their sleeves to clean up these riverbanks!
People were pouring into the recreation site before 7 am, but there was no beating the heat today, it was a sweltering 100 degrees at 7am and by 11am, it was 106 degrees!
But if you think that stopped anyone from grabbing their garbage bags and breaking a sweat to stuff them full, then you are wrong! People worked as if lives depended on it!
Of course they really do, and there was a silent understanding as people talked about Tangua, the beautiful Salt River horse, who died from ingesting plastic debris. There is frustration about how bad the trash situation is getting at the river, and also about the rampant carelessness of some of it's visitors.
But it was a great reminder that there are also many good selfless people left, who live consciously, and appreciate the beauty of nature. These are the people who give hope that all may not be lost just yet.
290 people signed up online for this event and that's not counting our own SRWHMG volunteers or Makenzie with AZDA who also came. There were kayaking clubs and paddleboarders and piddling in AZ, and hikers and a few bikers, we cant possibly name everyone. . Natural Restorations is still tallying the sign-ins. They will also have a weighed total of how much garbage was removed from the river today, it will get weighed in. But it looked like tons!
Every piece removed is a piece that will not harm an animal or pollute the river any longer. And ofcourse it's not just horses that are saved. Thank you everyone so much, for making the difference and for being the change!
And just in case some of you actually enjoyed cleaning up and making a difference, Natural Restorations does this all the time, all over the forest, in fact even while it's not their job to pick up after people, they've made it their job! We want to give a heartfelt thanks to Justin and Nicole Corey for all the great work they do! We also again want to thank all of the sponsors of this Cleanup!
Next time you are on the river, pick up some careless person's trash, even while it's not your job. Because you never know what animal you save that day. And if you were here today, please share this proudly!
Thank you all!!
SRWHMG.