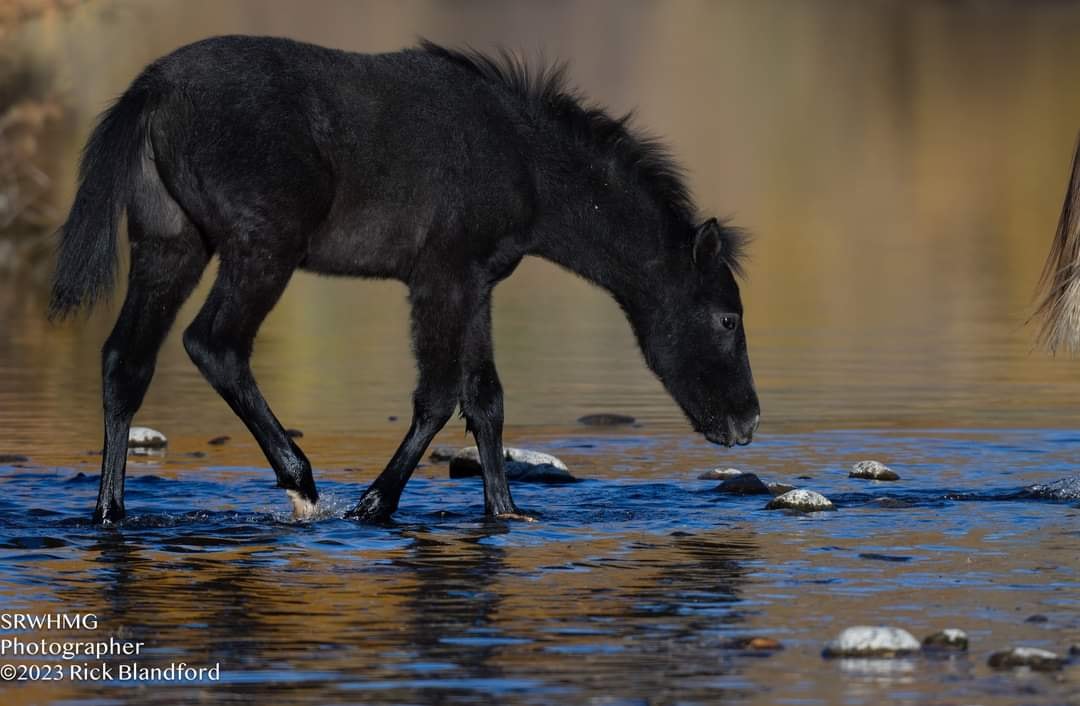 Watching her grow up wild and free. Look who is turning 3 years old already! 🌙
08
August 26
She is pretty special and she's the only Salt River wild horse born completely black; Moonshadow! Coming from a long line of dominant greys, we knew she wouldn't stay black for long and look how beautifully she is greying out!
While born right on the edge of the Salt River, Moonshadow's family band likes to predominantly roam the northern hills of the habitat. If you've ever heard a rumor, about horses not knowing where the Salt River is, please know that those are false. All Salt River wild horses have been, and go to the river at some point or another and they get to roam their 20.000 acres freely without being pushed or lured anywhere. They choose their favorite hangouts, or "home territories" themselves. Some horses are better with the public and others like to stay farther away from the business.
We do provide access to water troughs in the northern hills, ever since the Salt River horse collaborative process. Our 300 gallon automated water troughs serve the purpose of making the entire 20.000 acres habitable, and thus are protecting the riparian area from grazing pressure. We had hoped this would satisfy certain environmentalists, but we now know, that they will likely never be satisfied, as long as there are more than 44 Salt River horses allowed to live wild and free. Our water troughs provide vital water for lots of other wildlife in the area as well. (We'll post some cute pictures next.)
Moonshadow can still be seen grazing right next to her mom Brighteyes. Moonshadow's maternal grandparents are Shadowfax and Ms. Shadowfax, and her paternal grandparents are Minnie and Iroquois.
The value of being able to watch wild horses grow up, is immeasurable and priceless for so many people and visitors from all over the world, please do tell us, what do they mean to you?
Happy Birthday to our precious Moonshadow!
🌙💕🐴🎂 SRWHMG
Here are some pictures of her journey so far by SRWHMG Rick Blandford and Patty Ranweiler, Randi Najac and Jackie Marlow