Every Salt River Wild Horse Can Get To The River.
May 4th
Every Salt River wild horse can get to the river, every Salt River wild horse chooses their own preferred feed station (4 feed stations to chose from), they know their territory, they are hardy to this climate and no one tells them where to go or what to do.
There are some very false claims and defamation circulating about our feed program, possibly making goodhearted advocates think that somehow the horses cannot get to the river, or that temparatures are too hot for them, or that feed stations are not good places for them. All of these claims are purposely brought into the virtual world to hinder our organization and are now actually threatening the lifesaving programs for the protection of the Salt River wild horses.
Because of the long lasting drought, horses still do not have any forage in the Tonto National Forest, but even through the worst of natural circumstances SRWHMG continues to keep them in good condition, so that no Salt River wild horse needs to be rescued or removed.
Facts- horses are only at feed stations temporarily to eat, for the rest of their day, they still migrate and forage on trees and the banks of the river and in the hills. This is evidenced by thousands of pictures of Salt River wild horses in the river, doing what they've always done, in case you do not have a chance to visit the lower Salt River. (See: SALT RIVER WILD HORSES-ADVOCATES)
In fact SRWHMG is saving many horse lives through painstaking hard labor and spending $14.000 per month on just hay. The Salt River wild horses are hardy to the climate and know their habitat; no one tells them where to go or what to do, including SRWHMG, AZDA or the Forest Service.
Please see the following official information from the AZDA and please share this anywhere you see false claims. We want to thank all of you for your support as it is more important than ever.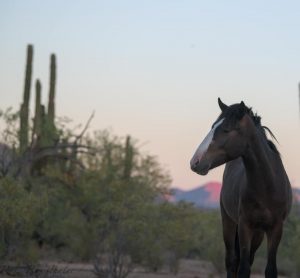 SRWHMG.