We Were Having Problems On Our Property Road.
April 28th
Because of the terrible ongoing drought, we have no choice but to keep raising the funds to be able to keep up our emergency feed program for the Salt River wild horses. But just like the horses need our rescue, we now find ourselves needing rescue!
We are having major problems on our property road. Every evening we use this road to feed hungry Salt River wild horses, but our road got so bad that our ATV was getting stuck every evening. But now this caring and amazing company EarthCore has come to our rescue! They are fixing our road as we speak and are giving it as a total donation!
Because we are so grateful, we hope you, our supporters will give them a huge shout out and thank them on their instagram page @earthcoredevelopment.
Just the nicest guys and good at what they do! Always support companies that support the horses! Thank you so much Zach and Grady for coming to our rescue and therefore coming to the horses rescue! @earthcoredevelopment!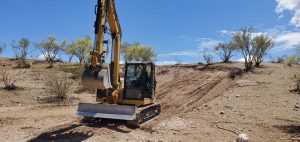 SRWHMG.