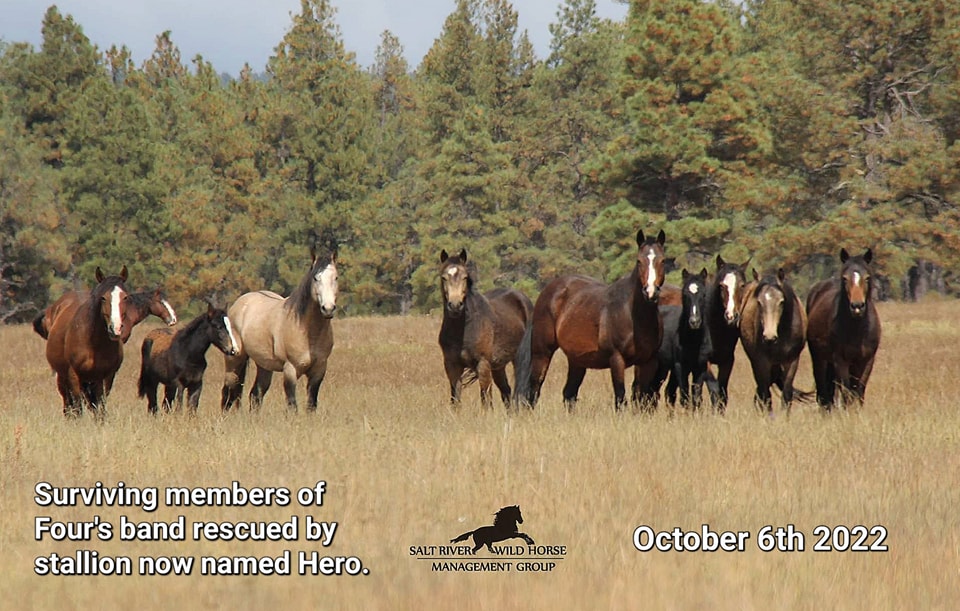 How an Alpine wild stallion became a hero.
January 6th
As most of you know we name bands of horses in themes, so that we can remember their bloodlines easily. Our new local Alpine wild horse Advocate group was doing the same, and named Four and Eric's band after the Divergent series.
Four and Eric were a joy to watch working together protecting their band, and out of all the bands in the Apache Forest, they were the friendliest with the most trust in humans. One of the curious yearlings was named Dauntless by Dyan, a great advocate of the newly formed AWHA group.
Sadly this band's fearlessness ended up costing them dearly. After the horrific events that happened on October 4th 2022, stallions Four and Eric were found shot to death and laid dead next to their 2 mares and one of their foals.
Of course all of us were incredibly shocked, sad and angry, but we knew we had to soldier on to carefully document every dead horse, so that one day we may get justice. We found a total of 43 carcasses and 11 horses are still missing.  (Please read till the end)
Most families that were shot, all laid dead together, not far from each other, but we did not fail to notice that half of Four and Eric's band was not there. We looked everywhere and we just really hoped that they had gotten away.
Later that very sad day, we were investigating in the meadows, when a band of horses literally came running towards us to stare at us. We did not recognize them right away, without Four and Eric and their grey lead mare Tris. But it was them, the rest of the band, alive and well including Dauntless! They looked at us as if we could have done something to bring their family members back, and we felt so powerless.
But now they were with a very beautiful pale grey buckskin stallion and he was keeping them away from us, it seems he recognized people as the enemies. He was impressive and Eric and Four's sweet girls, followed his lead. Thank you to this hero horse, what a good job he did.
The hero stallion most likely sped away with the surviving members of Four and Eric's band, before they could get shot. Because if they had stayed around their family, the monstrous shooters would have picked them off, like they did to all the other family bands, one by one.
So that's how his name is Hero and this is him with the surviving mares from Four and Eric's band, coming towards us that day in the meadows. Through tears we updated our database app from Four and Eric's band, to Hero's band. And as we went home that day, all we could do is hope they would be safe.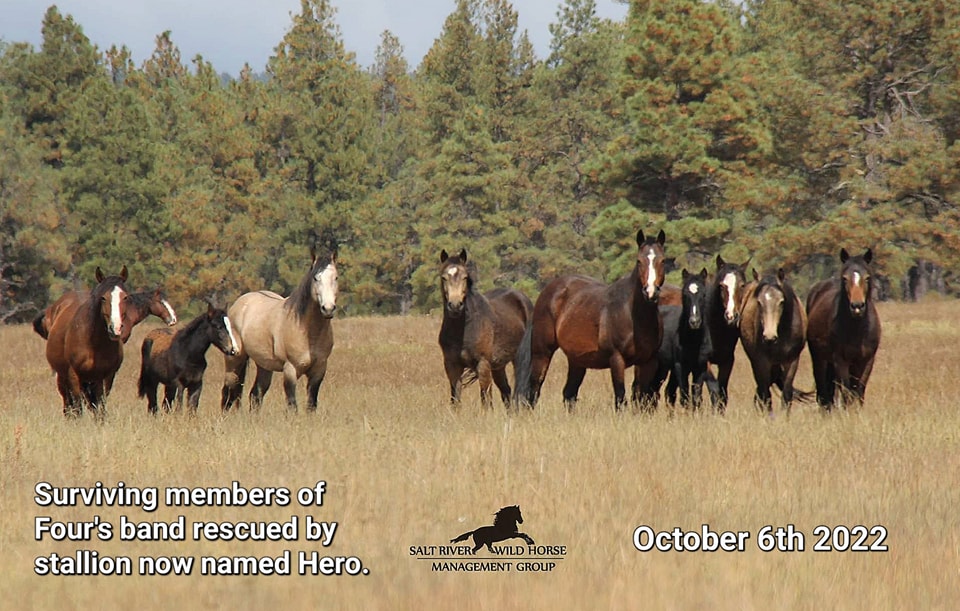 And we wish they were, so badly. We wish our own government wouldn't be this unfair and this inhumane. But no matter how hard we are trying, there is no happy ending for any of the Alpine wild horses.
This weekend's online auction by the FS co tractor Rail Lazy H includes all of Hero's band, except Hero. Even the little black orphan foal is there, who's mother was lead mare Tris. She survived, because she was adopted by one of the Auntie mares. But Hero himself is not there, where is he? We are pretty sure he would not have left them. Hopefully he jumped the trap.
These mares all went through hell and back together, the orphan watched her mom die but they followed Hero and they survived, but only to …be put on a slaughtertruck?!? Apparently so.
We cannot believe that this is the future of wild horse management we live in. Getting slaughtered in Mexico is possibly even worse than getting shot in the forest, and yet, it is legal, which is why they are getting away with murder.
Please find it in your heart to keep reading how you can help. We know it's hard, but we do it too, we suffer this horrid reality every day in real life, just to make a little bit of a difference, and one day we will, but we really need your help.
We need everyone's help. We are not making any of this up. None of it is exaggerated, our panic and urgency is real. We want these mares and babies to stay together, after all they have been through. It's not Christmas anymore, but more than anything, we want to find them a home, before Sunday.
But we have saved so many already (148), so many people have already stepped up, we have been networking with awesome new sanctuaries and new 501c3's, and paying for bail and hay and geldings etc, but now, no one has land or space or money left! The pressure on the rescue community is simply too great.
We are calling on the Forest Service to give these Alpine horses just a very small dedicated acreage of the Apache Forest.
But since that's not likely, we are calling on all Americans to help us find these sweet mares a permanent home where they can stay together.
You the individual reader can help more than u might think. You can share this all over the horse industry and to every rescue. You can share it to anyone you know with a little acreage, to anyone in the horse industry who's doing pretty good, and to the bigger sanctuaries of whom none have stepped up for Alpine wild horses yet. There are huge equine companies that could sponsor a piece of land for them, there is money to be found, but we need help looking for it!
We are willing to bail them out of the auction and raise money for transport. If someone could just keep them together…
There are also two other full bands in the auction, Baldy's band and Ridge's band!
Please contact us if you know of a good home saltriverherd@respect4horses.com or message us or text to 480 868 9301. We have only until Sunday. Horses have to be picked up by Wednesday.
Now in the online Forest Service auction by the removal contractor Rail Lazy H; Hero's band, Baldy's band and Ridge's band.