Hurricane Florence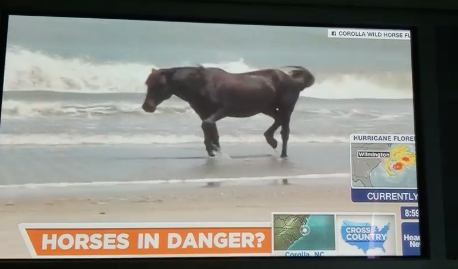 The Corolla wild horses are a herd of historic wild horses who live on the outer banks of North Carolina in Currituck County. With hurricane Florence creeping closer, our thoughts are with them as well as all animals and people in its path.
Much like our situation, these wild horses were saved by the community and are humanely managed by a non-profit organization, the Corolla Wild Horse Fund. They also have a rescue facility where they take care of 18 of their rescued wild horses.
We have been keeping an eye on how our friends there are doing and they are so far so good. The hardy ponies are expected to be ok, they will move to higher grounds, but our thoughts will be with them and we will keep you informed.
We love that the media is showing concern for these wild horses with national coverage. It is a great example of concern the public has for the well being of all of our American icons.
The Corolla wild horses are a herd of historic wild horses who live on the outer banks of North Carolina in Currituck County. With hurricane Florence creeping closer, our thoughts are with them as…