Saving the Salt River wild horses. Mission: ensure their protection and humane management.
The Salt River wild horses are the beloved and majestic mustangs who have been roaming free along the lower Salt River in Arizona, for centuries. Arizona State Archives hold historic evidence of their existence in the Salt River Valley, back in the 1800's. Today, they are the pride of this community, a favorite subject of photographers, and the icon of the wild free spirit of  the American West.
The Salt River Wild Horse Management Group (SRWHMG) is dedicated to preserving and protecting the Salt River wild horses and safeguarding their habitat through public awareness and educational campaigns. Our goal is freedom, protection and humane management of this treasured recreational resource. Please join us in this important conservation cause.
The first male baby of the year was born and we have named him Ducey after the Governor of Arizona, without whom perhaps little Ducey wouldn't have been born wild and free this year. We ask our Governor for his continued support for the herd, as his Agriculture Department and the Forest Service are working out agreements.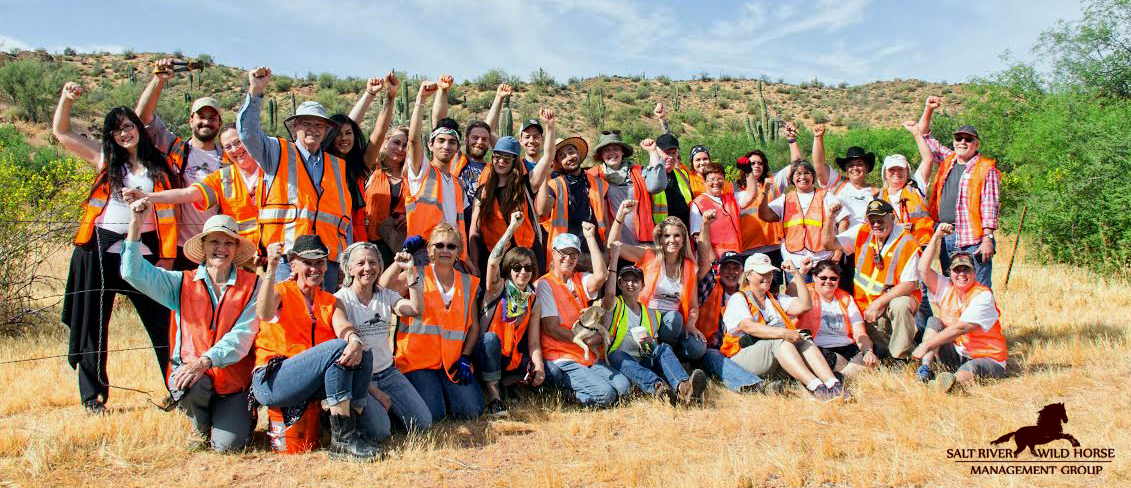 With our volunteers on the river every day, we keep scientific records for each horse, each band and each change within the herd. We have many years of records on their birth rates, death rates, herd dynamics, migrating patterns and environmental circumstances.
We work towards improving public safety and horse safety by fixing many miles of fencing along Bush Highway and installing new gates in coordination with the Forest Service. (picture of our fencing team).
We safeguard their environment by removing old downed barbed wire, buckets of nails and many pounds of trash.  We deal with any and all situations that involve a wild horse. When necessary, we also rescue and rehabilitate fatally injured Salt River wild horses. It is our goal to work for the good of the Tonto National Forest, its inhabitants and its visitors every day.
What can be done to work towards humane solutions?
To us, this battle is about keeping a small piece of "wild" for future generations to come. It is about keeping wild horse families together and about using humane and scientific methods of management, including humane fertility control.
Our data over many years shows that the Salt River herd is growing approximately at 12% per year. That is not as much as is claimed by the BLM for most herds, but it is still a positive growth rate and the Salt River wild horses only have a limited habitat and are fenced in by civilization on all sides.
PZP immuno-contraception is the only acceptable form of birth control for wild horses as it does not harm nor influence their very important behaviors and herd dynamics. It has 30 years of research behind it, it can be darted without stress or capturing horses, and it prevents fertilization for one year. By implementing a fertility control protocol with our certified darters, the youngest mares will get a chance to mature before foaling and the older mares can get a break from having babies, which improves their overall health. But we have not been authorized to start the program yet.
In 2016, through our continued work with AZ State Legislators, the Salt River Horse Act (HB2340), was passed and was signed by Governor Doug Ducey, who had been supportive since the very beginning. This bill establishes that the Salt River wild horses are not stray livestock, makes harassing them illegal and requires a codifying of their humane management between the Forest Service, the State Ag Department and a private party. The bill paves the way for our humane management protocol that is geared towards achieving a reduced and stabilized population, so that each horse born in the wild can stay in the wild.
The bill has an enactment clause which requires that the MOU between government authorities be signed before the end of 2017, which is a process that is ongoing at this time. What can be frustrating about the long and bureaucratic process, is that while we have been ready for implementation for the past 5 years, we have yet to be authorized to use this common sense method to reduce population growth and therefore population growth has never been addressed.
It is our fear that this may eventually cause an announcement that there is only room for a certain amount of horses on the river.
Help us achieve their humane management and protection!
We will need the public's continued support in opposition to anything that is not in the horses' or the public's best interest. We strive for a win-win solution for everyone, the public, the authorities and most of all the horses.
This fight is about keeping a small piece of wild for future generations to come, and managing it humanely and responsibly. It is about who we are as Americans, and what we stand for – and what we don't.
Please support us in any way you can so that we may reach our goals of permanent protection. We are not funded by anyone but you, the public. Your tax-deductible donation helps the Salt River wild horses directly, as no one in the Salt River Wild Horse Management Group gets paid. With your support we purchase fencing to keep horses off the roads, fund our education campaigns, fund a humane management protocol, and pay for the rescue and sanctuary of suffering wild horses.
Please help us keep the wild in the West!  click here.  If you want to stay informed and receive our alerts click here.
You can also connect with us through Facebook, Twitter and Instagram
Background: When the notice came out, for the herd's roundup and removal in 2015, we committed to the battle against their annihilation. We informed the public and the press, we held rallies and protests and we filed a lawsuit against the roundup. What happened next was no less than the unprecedented public outrage we knew we needed- the people of Arizona and its politicians gave these iconic wild horses a voice.
Thousands of calls, letters and emails streamed into the Forest Service office. More than 100 news pieces can be found when you search "Salt River Wild Horse Management Group" , including pieces on CNN, the New York Times, USA Today, the Washington Times and our very supportive local stations ABC15, FOX10, CBS5/3tv and 12News.
During our negotiations, the Forest Service committed to a 120-day temporary delay of the roundup after which we  dropped our lawsuit (without prejudice) in order to further negotiate. Then just before Christmas of 2015, under continued pressure, the Forest Service agreed to  rescind the impound notice.  We are grateful that the Forest Service took note of the the public outcry,  and that they listened.