Background:
According to historic newspaper articles, once, more than 500,000 wild horses roamed in Arizona, today, fewer than 500 remain in our entire state — among them, the iconic and beloved Salt River wild horses. These majestic creatures are the pride of the community, a favorite subject of photographers and the icon of the wild, free spirit of Arizona and the American West.
The Salt River Wild Horse Management Group (SRWHMG) keeps track of these wild  horses daily and keeps a record on each one of them. We fight for their permanent protection on the river where they have lived in harmony with all other species and their ecosystem for centuries.
In response to the Forest Service's notice to round up, impound and remove the Salt River wild horses in July of 2015, the Salt River Wild Horse Management Group (SRWHMG) sounded the alarm, alerting the press and the public to the imminent destruction of the  herd. We held rallies and we filed an injunction and a lawsuit against the Forest Service. We lobbied our legislators and we negotiated with the Forest Service- it made the local news daily.
Our petition has almost 300,000 signatures of people who want to see the Salt River wild horses preserved and protected on the river. It was nothing short of an unprecedented public outrage – the people of Arizona and its politicians gave these iconic wild horses a voice. More than 100 news pieces can be found when you search "Salt River Wild Horses" , including pieces on CNN, the New York Times, USA Today, the Washington Times and ofcourse NBC, ABC, FOX and CBS.
As a result of the continued public pressure and  negotiations, the Forest Service at first committed to a 120-day temporary delay of the roundup and we dropped our lawsuit without prejudice. Then, just before Christmas of 2015, the Forest Service agreed to a total rescindment of the impound notice.  We are grateful for the fact that the Forest Service heard the public outcry and that they eventually listened.
It is our goal to work for the good of the Tonto National Forest every day,  which has millions of visitors annually. Our volunteers pick up bags of garbage from the riverbanks, buckets of nails and many pounds of old down barbed wire daily.  We work together with all local authorities like MCSO, DPS, ADOT and MCDOT towards improved public and horse safety and we are fixing many miles of fencing on Bush Highway.
This is about keeping a small piece of wild for future generations to come,  but it is also about more than that. It is about who we are as Americans, and what we stand for – and what we don't.
These lands belong to all of the public of America and it is overwhelmingly clear what the public wants.  YOUR voice makes a  difference, we still need your help!
We are not funded by anyone but you, the public. Your donation helps the Salt River wild horses directly, no one in the Salt River Wild Horse Management Group gets paid; not even the president. By donating you will help us purchase fencing materials, fund our education campaigns, help us pay our legal bills, pay for an Environmental Assessment and pay for the rescue vet bills for our rescued Salt River wild foals.
This is the orginal petition you can still sign it asking that the Forest Service protect the Salt River wild horses permanently in their historic home.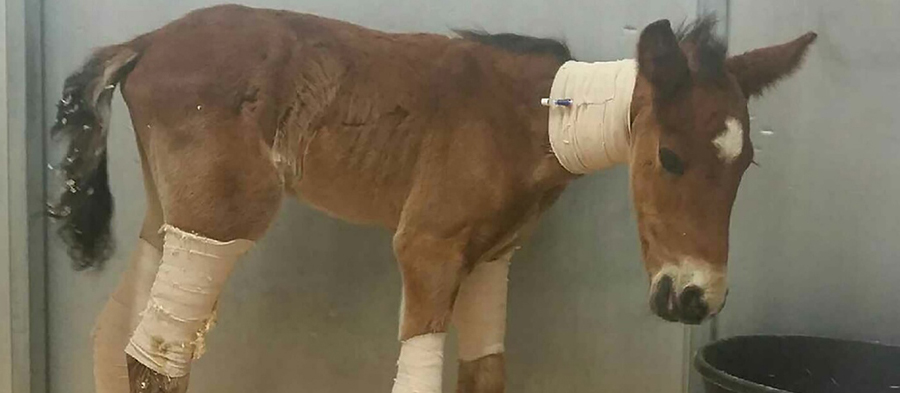 A hiker called the SRWHMG emergency number and we went out immediately to find little Pacman allone and terribly injured. We rescued Pacman and got him to the equine hospital.  Please help us to be able to afford to save little Pacman's life. A donation of any size will help Pacman!  Thank you!