Mission: Ensure the protection and humane management of the Salt River wild horses.
The Salt River wild horses are the beloved and majestic horses who have been roaming free along the lower Salt River in Arizona, for centuries. Arizona's State Archives hold historic evidence of their existence in the Salt River Valley, dating all the way back to the 1800's when they were already referred to as "native stock".  But in 2015 they were threatened with total removal.
Today, after a long battle for their freedom, the Salt River wild horses are officially protected by State law! These wild horses are the pride of this community, a favorite subject of photographers, and the icon of the wild free spirit of  the American West.
Our goal is and always has been freedom, protection and humane management of this treasured historic and recreational resource. Please join us in this important mission.
RECENT PRESS RELEASE
Thursday, May 17th 2018, Contact: Simone Netherlands, SRWHMG, 928-925-7212, Simone@Respect4Horses.com
Horse Deaths on Bush Highway Spur MCDOT Changes.
5 Horse Collisions in Last 5 Weeks — Including 3 in the Last 3 Days — Prompt Agency to Act.
Mesa, Arizona . . .. The Salt River Wild Horse Management Group (SRWHMG) today announced that the Maricopa County Department of Transportation (MCDOT) has committed to major changes to improve safety on Bush Highway in the aftermath of three horse-vehicle collisions in the last three days and five in the last five weeks on the roadway. All collisions resulted in the deaths of the horses, prompting the SRWHMG to characterize Bush Highway as a "bloodbath."
The horses who perished are part of the famed, and now protected, Salt River Wild Horse Herd that lives in the Tonto National Forest. Bush Highway cuts directly through the horses' habitat. Recent improvements to the roadway – which include widening, repaving and new guardrails – appear to have increased the danger of horse-vehicle collisions. The SRWHMG had previously warned of the potential dangers of the pending improvements.
On Tuesday night, a popular Salt River stallion was hit and died horrifically. The day before, two horses — including a filly who suffered badly and a heavily pregnant mare — both died as a result of two separate hit-and-run collisions. Earlier this month, two additional horses were hit and killed, bringing the total to five horse-vehicle collisions resulting in the deaths of five horses and two unborn foals in the past five weeks since construction was completed. Fortunately, no people were seriously hurt in the recent collisions.
After the collisions, the SRWHMG appealed to MCDOT for immediate action to protect the horses and drivers on Bush Highway. Hundreds of concerned citizens also weighed in with phone calls to MCDOT.
MCDOT swiftly responded and today contacted SRWHMG President Simone Netherlands with good news: the agency is taking thorough and immediate steps to address the situation!
Among the actions MCDOT has committed to take:
• Immediately placing Variable Message Boards at strategic locations on Bush Highway warning motorists to slow down and watch for horses. (Seven of these signs are already in place as of this evening.)
• Installing rumble strips before established horse crossings and placing horse crossing signs at each horse crossing.
• Painting "Watch for Horses" on the asphalt.
• Collaborating with the Maricopa County Sheriff's Office to enforce speed limits on Bush Highway.
• Developing long-term solutions, including construction of underpasses and radar-triggered flashing lights activated by the presence of horses in the roadway.
"We commend MCDOT for its swift and comprehensive response to our proposal and concerns and for taking prompt action in advance of Memorial Day Weekend to make Bush Highway safer for everyone – wild horses and humans alike," said Netherlands. "We are still saddened that it took the deaths of these five beloved horses to bring about change, but we are heartened that at least their suffering was not in vain."
"We look forward to working with MCDOT on the continued long term solutions to improve safety for everyone in this area," Netherlands continued. "We are grateful for the support and proactive approach of the Arizona Department of Agriculture and its Salt River Horse Liaison, Jacquelyn Hughes, to protect this herd. Last but not least, we thank our supporters and all members of the public who cherish these horses and are willing time and time again, to act to defend them.
The SRWHMG is urging anyone driving on Bush Highway to heed MCDOT's visual warnings and give wild horses a "BRAKE".
-The Group is cancelling a planned Monday morning protest in front of the MCDOT office.
-The scheduled Saturday evening vigil on Bush Highway will now be a celebration, which the public is invited to attend. Please drive and park safely and watch for horses! (7 p.m. at the Coon Bluff Recreation Area – third recreational area on Bush Highway when coming from Power Road in Mesa.)
-END OF PRESS RELEASE
About us:
With a daily presence in wild horse habitat, we monitor and keep records for each horse and record each change within the herd. Our many years of data have created a scientific perspective on their herd behavior, birth and death rates and migrating patterns.
We deal with any and all situations that involve a wild horse. We operate an emergency hotline (480-868-9301 ) and we will have our people on scene within 15 minutes of any emergent situation. When necessary, we rescue and rehabilitate suffering and injured Salt River wild horses. We currently give sanctuary to eight rescued Salt River wild horses who have made amazing recoveries from almost fatal injuries.
As a result of record breaking drought in Arizona, we are currently in an emergency feed protocol under authorization from the Arizona State Ag Department. It is you the public who makes the humane management of the Salt River wild horses possible with your generous support.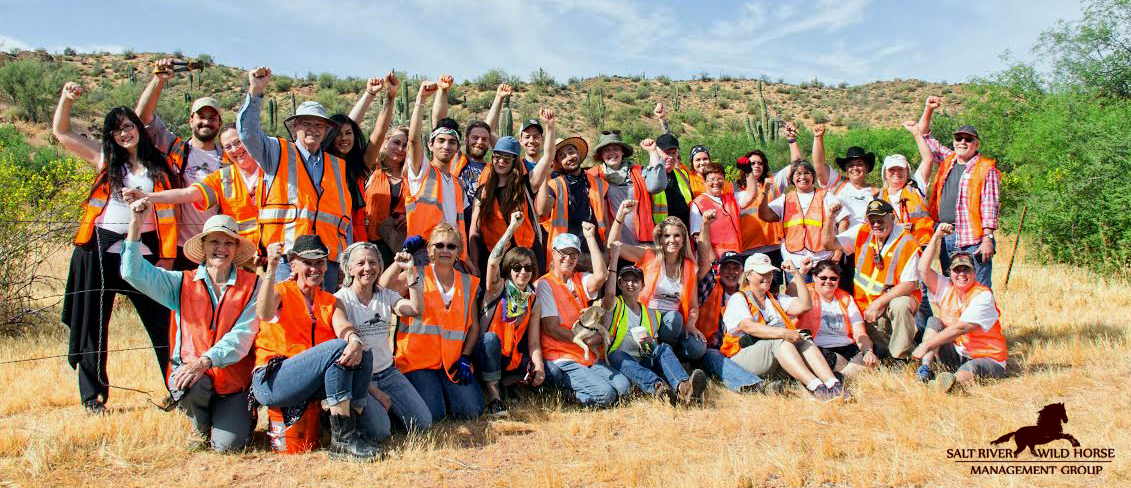 Our work includes improving safety for horses and the public, by maintaining and repairing miles of fencing along Bush Highway. We also install horse proof gates. We do all of this in coordination with the Forest Service. This picture is of our fencing team.
Removing old downed barbed wire, nails and trash is another important aspect of what our volunteers do every day on the river. It is our goal to work for the good of the Tonto National Forest, its inhabitants and visitors every day.
The Cause: prevent their removal.
This fight has been about keeping a small piece of wild for future generations to come, and managing it humanely and responsibly. When we started this campaign for their freedom we had no idea that it would touch hundreds of thousands of Arizonans and Americans so deeply. We are forever grateful that this amazing herd found their voice with the public of Arizona and all of its legislators, politicians as well as Governor Doug Ducey.  While so close to being gone forever in 2015, the Salt River wild horses are now protected by the Salt River Horse Act which establishes that the Salt River wild horses are not stray livestock and makes harassing and killing them illegal.
Now our job is to work with the Arizona State Agriculture Department for their humane management. Our management plan will be geared towards a stabilized and healthy population, and will include humane fertility control. We have submitted our proposal to the Arizona State Ag Department and will know fairly soon if it will be accepted.
Our data over many years shows that the Salt River herd is growing approximately at 12% per year. That is not as much as is claimed by the BLM (Bureau of Land Management) for most herds, but it is still a positive growth rate. The Salt River wild horses have a limited habitat, because they are fenced in by civilization on all sides.
PZP (Porcine Zona Pelucida) immuno-contraception is the acceptable form of birth control for wild horses, as it does not harm nor influence their wild behaviors and herd dynamics. PZP can be darted without capturing horses and it prevents fertilization for one year. By implementing a fertility control protocol with our certified darters, we can stabilize the population humanely. The young mares will get a chance to mature before foaling and the older mares can get a break from having babies, which improves their overall health. The goal of the program is for each horse born in the wild, to be able to stay in the wild.
Help us achieve their humane management!
We continue to need the public's support while we work hard towards humane management and secure the final step, a management agreement with the State of Arizona. These horses belong to all of the public of Arizona and we will prove that they can be managed humanely, by the public and for the public.
Managing wild horses is neither easy nor cheap. We are not funded by anyone but YOU, the public. Please support us in any way you can. No amount is too small. Your tax-deductible donation helps the Salt River wild horses directly.  as no one in the Salt River Wild Horse Management Group gets paid . With your support we can purchase fencing to keep horses off the roads, fund education campaigns, our emergency feed protocol and our birth control protocol. It is because of people like YOU that we can rescue, treat and give sanctuary to suffering wild horses. Thank you for your support.
To donate  click here.  If you want to receive our alerts click here.
Background: When the notice came out for the herd's roundup and removal in 2015, we were devastated. We knew that we would need an unprecedented public outrage to prevent the annihilation of this historic herd. We gave it our all; we alerted and informed the public and the press, we held rallies and protests, we filed a lawsuit and we negotiated with the Forest Service. What happened next was amazing, it was the unprecedented public outrage we needed, and then some- the people of Arizona and its politicians gave these iconic wild horses a voice. Under continued pressure, the Forest Service agreed to rescind the impound notice. Together, we changed the course of history for the Salt River wild horses, who now have a legal right to live on the Salt River in Arizona and are protected under State law.

More than 100 news pieces can be found when you search "Salt River Wild Horse Management Group" , including pieces on CNN, the New York Times, USA Today, the Washington Times and our very supportive local stations ABC15, FOX10, CBS5/3tv and 12News.