These Salt River wild horses need your help, please consider getting involved and becoming a sponsor. We are not funded by anyone but YOU, the public.
Your support will make a real difference, your donation goes 100% to caring for these wild horses and supporting the fight for all of their herd.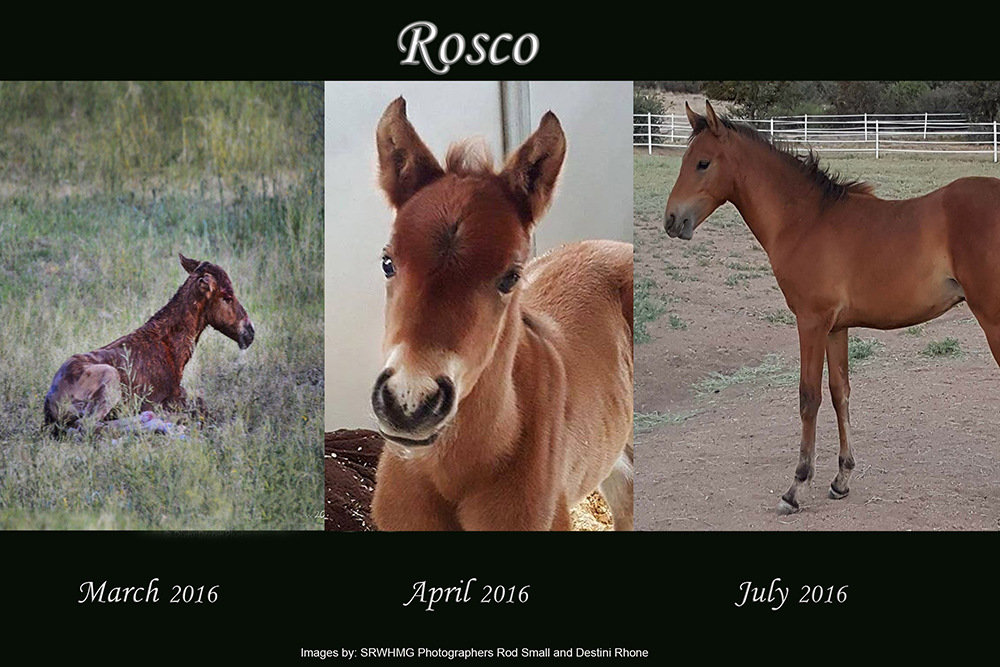 Rosco would have suffered a slow and cruel death all alone in the field where we found him in, because he was abandoned right after his birth.  The new stallion who had just taken over his band, made his mother abandoned him, we had never witnessed this behavior before and it was hard to watch. So after waiting a few hours to see if his band would come back, the SRWHMG carefully surrounded him and loaded him on a blanket in an SUV.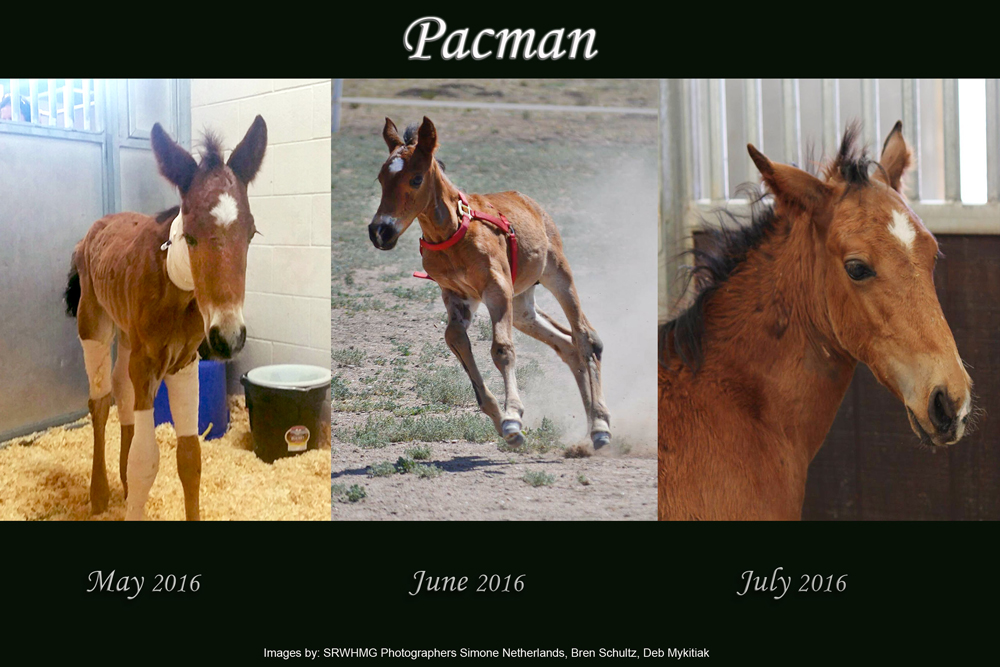 Pacman was born a healthy Salt River Wild Horse who lived with his band for about a month, then something bad happened to him. Pacman was found alone, emaciated and was coming up to people for help. The 3 hikers who found him contacted SRWHMG emergency number for help, after which we rescued him.  He had many infected puncture wounds and severe pneumonia and a bellybutton infection. The veterinarian recommended euthanasia.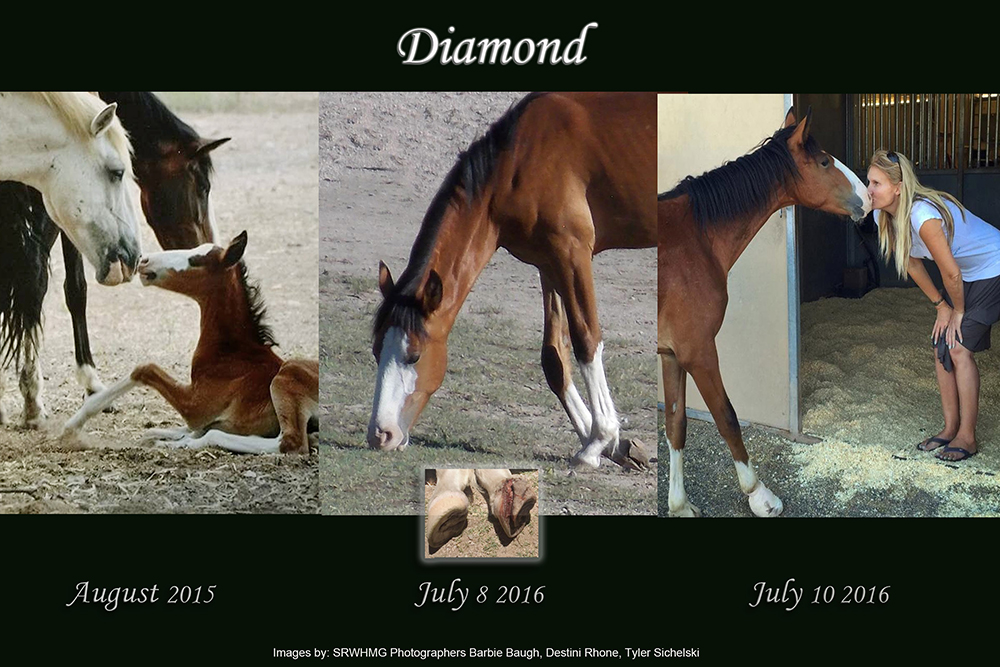 On July 31st 2015, a wild horse was born on the same day of the impound notice for the removal of all of the Salt River wild horses. He stole many people's hearts and at just a few days old, he looked in the cameras, whinnied, and ended up on every News Station about the removal of his herd. Sadly after the saving of his herd, Diamond needed saving one more time after loosing his hoof in a cattle guard.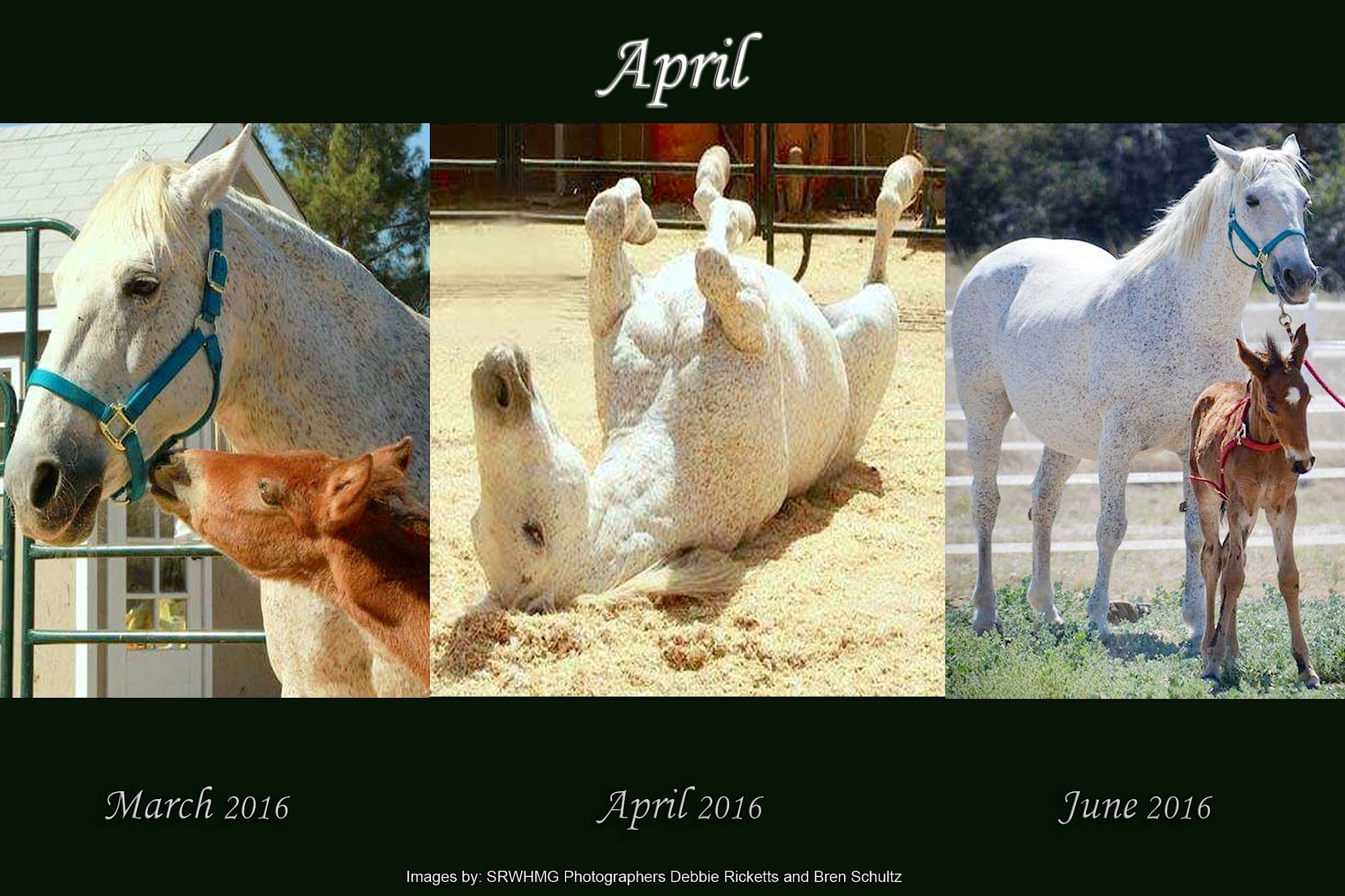 April is amazing. She lost her own foal at birth and was very distraught about it. We purchased her right after. It took a few days of hard work for her to accept Rosco when he was just a few days old, but once she did, he was her baby. They saved each other.  She now also lets Pacman nurse from her, so that both babies get to have the very healthy real mare's milk. April needed hoof care as she was lame and she needed parasite treatment for her ears.
It is It is our belief that wild horses ought to be wild, and they should die of natural causes in the wild however, there is always a balance. Humane management includes carefully assessing each injury situation we come across. Most of the time wild horses will heal miraculously and we will monitor them in the wild until they do. However, if and when we encounter needless suffering that won't end well, and we have the funds and the authorization to do something about it; we will."