Advocates call for more enforcement after video shows man kayaking at Salt River horses
TONTO NATIONAL FOREST, AZ (3TV/CBS 5) — Advocates are calling for more enforcement and clarification under the Arizona statute protecting horses after a man was recorded on video kayaking directly at Salt River horses over the Memorial Day weekend.
Officials with the Salt River Wild Horse Management Group shared the video on their Facebook page Sunday morning showing a man kayaking directly toward a group of horses standing in the river near Coon Bluff campground.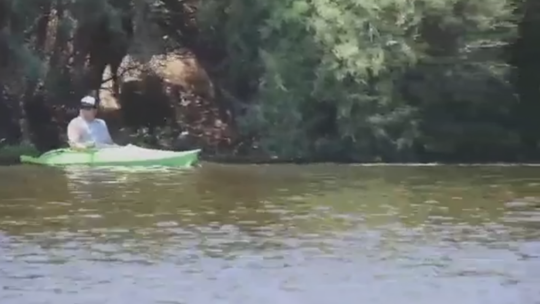 "Salt River Wild Horse Management Group, who are in charge of managing these horses humanely, encourages visitors to treat the Salt River wild horses with respect," said group President, Simone Netherlands
The group shared the video to spread awareness to the definition of harassment under ARS 3-1491, the statute that protects the horses on Forest Service land. Officials pointed out that harassment is currently not defined under the statute, making it difficult for authorities to enforce.
"Even if we found out who this man was, law enforcement tells us that they actually can't enforce it because the word "harassment" is not a clear definition," said Netherlands. "What it would take is a special rule by the AZDA that would have to go through the rules committee."
"We believe that harassment should include the purposeful disturbing of wild horses in their natural behavior, including pursuing or chasing wild horses by any means, including but not limited: by vehicle, on horseback, on foot, with dogs, bikes, drones or kayak," according to the group's post.
The post, which posed the question if viewers found the man's actions to be considered harassment, had thousands of reactions, comments, and shares by Sunday evening.
"We are asking people to please respect the Salt River wild horses in their natural habitat, by keeping a minimal distance of 50 feet from them at all times and to never pursue or chase a wild horse for any reason," said Netherlands.
VIDEO